When
Oct 30 - Nov 01, 2017
Registration Deadline
Oct 20, 2017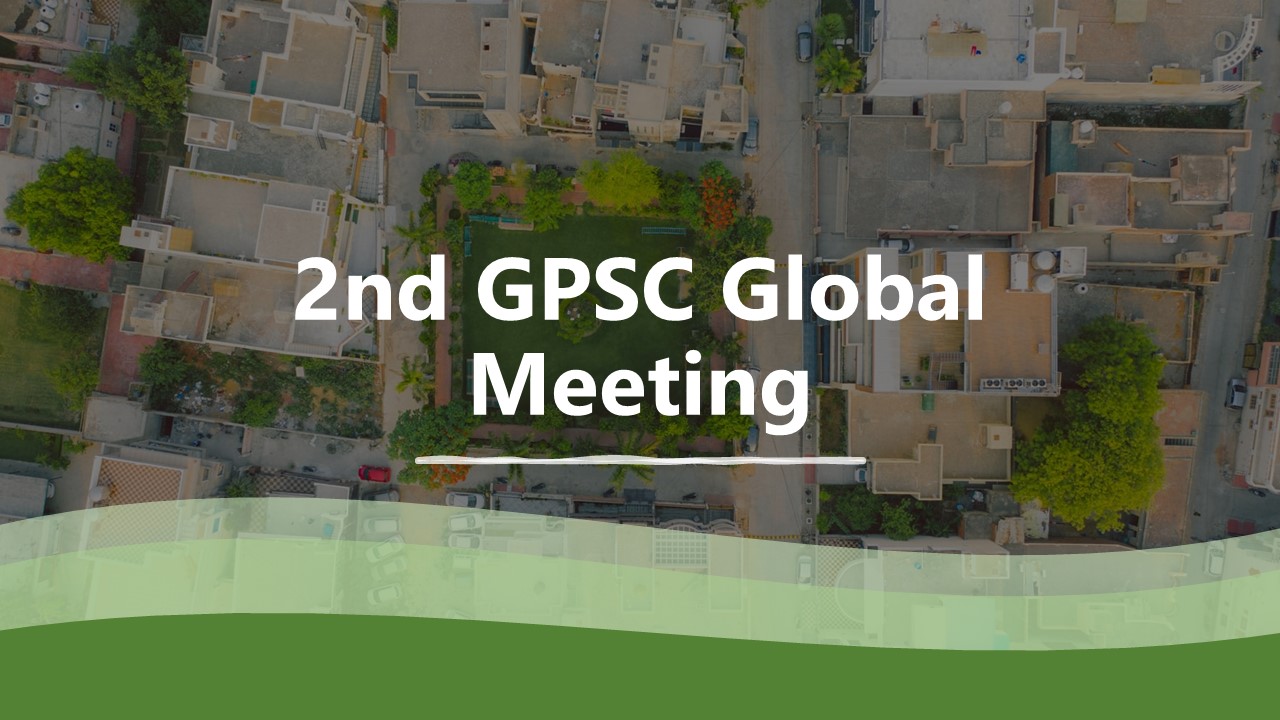 Better Planning Better Cities:  Solutions to Urban Sustainability
The Global Platform for Sustainable Cities, or GPSC, supports cities in their efforts to adopt an integrated approach to urban planning and financing and is currently comprised of 27 cities across 11 pilot countries.
Led by the World Bank and supported by the Global Environment Facility (GEF), in collaboration with development partners, the GPSC promotes sustainable development amidst rapid urbanization and works with practitioners and thought leaders from around the world in developing solutions for sustainable urban growth. At the annual forum, mayors and city leaders convene with experts from financial institutions, international organizations, UN agencies and the private sector, to share best practices in sustainable development planning and discuss policy options towards a common vision of urban sustainability. 

The theme of the 2017 forum 'Better Planning Better Cities: Solutions to Urban Sustainability' will be illustrated throughout the scheduled events, which includes a Mayors' Roundtable, High-level Panel Discussions and a series of in-depth Learning Events. 
Agenda
Day 1 | Monday, October 30 
Parallel Learning Events
Learning Event 1: Data-driven Approach to Urban Management and Smart Solution for Waste Management
Rapid urbanization poses tremendous and evolving challenges for governments at all levels.  How will cities better deliver services while also fulfilling their economic potential?  One innovative solution for urban living has come to the fore: 'using big data for delivering smart services'.
In this session, seasoned experts demonstrate best-practice principles in integrating data and smart and sustainable city methodologies into urban planning across multiple sectors, including waste management.  Leading examples of smart cities will share their planning strategies and the available tools that enhance efficiencies in service delivery and boost competitiveness as well as sustainability.
Participants from learning events 1 and 2 will join for the last session in the afternoon to learn and discuss on financing model for waste management. 
Session I:  9:00 to 12:30: Data-Driven Approach to Urban Management 
Governments oversee trillions of dollars every year; yet the widespread use of data to inform decision making in the sector is scant.  Leading smart cities rely heavily on data analytics to tackle urban challenges and solve development problems across various sectors.
This session will introduce case studies on how global smart cities respond to the rapid rise of the Internet of Things (IoT) and leverage big data and cloud computing for better urban services.
I. Data-Driven Approach to Urban Management

9:00

Welcome remarks by Ms. Xueman Wang, Program Coordinator, GPSC, World Bank;
Introduction by participants
Overview of the program

Part 1 – Panel Discussion: Data-Informed Urban Planning

Moderator: Ms. Diana Lopez, Head, Local government and decentralization Unit, UN-Habitat

Discussant: Senior Planning Advisor, Governor's Office of Planning and Research, State of California

9:15

Leveraging Data for Effective and Integrated Urban Planning and Governance

Mr. Jonathan Denis-Jacob, Research Manager, Singapore-ETH Centre, Future Cities Laboratory;
Mr. David Neudecker, Interface

designer

and researcher, Singapore-ETH Centre, Future Cities Laboratory;

Mr. Petr Suska, Senior Project Manager, Fraunhofer IAO

Q&A

10:15

Tea/Coffee break at Rani Bagh Lawns

Part 2 – Case Studies: How A City Leverages the Power of Data for Better Urban Management Moderator: Mr. Petr Suska, Senior Project Manager, Fraunhofer IAO

10:30

Case Study 1: CityScore: Performance Measurement and Analytics in the City of Boston

Ms. Stefanie Costa Leabo, Deputy Director of Performance Management, City of Boston

10:50

Case Study 2: Data-driven Based Urban Policies in Brazil: The Role of a Sustainable City Observatory and Some Examples

Mr. Antonio Carlos Figueira Galvao, Director, Center for Strategic Studies and Management

11:10

Case Study 3: Utilizing Big Data to Solve Urban Issues: The Case of Seoul

Ms. Sunghoon Kris Moon, Project Advisor, Seoul Urban Solution Agency, Seoul Metropolitan Government

11:30

Q&A Session

Opportunity for participants to present their cities' data management system

Questions for participants to respond:


What would your city take to manage urban data effectively?

Name three most critical components a city would need to build the foundation for data-informed urban management

12:00

GPSC Support to Cities: Integrating Data/Indicators into Urban Planning Process

Ms. Qiyang Xu, GPSC, World Bank

12:15

Lunch at Rani Bagh Lawns
Session II: 13:30 to 17:30:  Smart Solutions for Waste Management 
Waste management as an essential city service which attracts smart technologies and innovative business models to increase efficiency and improve quality of waste collection, transport, and management services. Some cities use sensor built-in waste bins to monitor their waste levels; some allocate solar-powered trash compactors to trigger automatic compactor; some employ Internet of Things (IoT) and data analytics to optimize logistic resources to save labor and fuel consumption. In this session, participants will better understand the currently available smart waste management tracking systems and how they work, the innovative financing modality, and good practices brought by cities leading this field.
II. Smart Solution for Waste Management

Part 1 – Case Studies: Turning Trash into Treasury

Moderator: James D. Michelsen, Global Solid Waste Management Specialist, IFC

 

13:30

Introduction and overview of the technology: Data gathering and analysis for waste management

13:35

Case Study 1: Concrete in the Jungle – The urgent need to manage new construction waste in India's cities

Mr. Rupam Raja,

Partner

, and Commercial Director, Environmental Resources Management (ERM) India Private Limited

14:05

Case Study 2: Integrated Waste Management in the Netherlands

Ms. Priya Dagar, Senior Policy Advisor (Sustainability, Resilient Cities & Circular Economy), Embassy of the Kingdom of the Netherlands

14:25

Case Study 3: Yokohama's Solid Waste Management and further challenges with Smart Technologies

Mr. Yasuaki Nakamura, Deputy Director for Development Cooperation, International Affairs Bureau, City of Yokohama

14:35

Q&A

Discussion

15:00

Tea/Coffee break at Rani Bagh Lawns

Please move to Mumtaz Hall for the next Session

Part 2 - Joint Session with Parallel Learning Event 2 On Finance

15:30 – 17:30

Innovative Modality for Financing Municipal Waste Management
Learning Event 2: Municipal Finance, Bonds and PPPs
Manifesting a city's vision and strategy into reality requires securing adequate financing. Cities with the greatest infrastructure needs often lack the capacity and knowledge to develop investable projects. This is exacerbated by limited access to credit and an insufficient ability to take advantage of endogenous sources of finance that may be invested towards vital infrastructure investment.
Supporting the efforts of cities in enhancing their municipal financial performance and identifying investment options is one of the main objectives of the GPSC. This session introduces the fundamentals of creditworthiness and municipal finance and discusses strategies for municipal governments to implement PPP projects.
I. Opening and Keynote Address

09:15

Welcome Speech

Mr.  Jun Zhang, Country Head – India, International Finance Corporation (IFC)

09:30

Introductory Speech

Prof. Jagan Shah, Director, National Institute of Urban Affairs

09:45

Keynote Address

Dr. Amarjit Singh, IAS, Secretary, Ministry of Water Resources, River Development and Ganga Rejuvenation, Government of India

10:00

Cities Matter – a "TED Talk" on Cities

Ms. Elena Bourganskaia, Senior Manager & Global Cities Head, IFC

10:15

Tea/Coffee break at Rani Bagh Lawns

II. Technical Session on Commercial Finance for Cities

10:45

Panel Discussion: Commercial Finance for Cities

Moderator: Mr. Rajesh Sinha, Principal Investment Officer, Global Cities Team, IFC

Mr. Pawan Kumar Agrawal, Senior President, Yes Bank Limited;
Mr. Sagili Shah Mohan, IAS, Additional Commissioner, Andhra Pradesh Capital Region Development Authority;
Mr. Shakil Alam, Director (Multilateral Institutions), Department of Economic Affairs, Ministry of Finance, Govt. of India;
Ms. Upasana Varma, Senior Investment Officer, IFC.

Q&A

12:30

Lunch at Rani Bagh Lawns

III. Technical Session on Municipal PPPs

13:30

PPPs in Cities:  Rationale and Key Nuances of Municipal PPPs

Mr. Jeffrey Delmon, Senior Infrastructure Finance Specialist, World Bank

14:00

Panel Discussion: PPPs for Wastewater Management

Moderator:  Mr. Nicola Saporiti, Global Water & Wastewater PPP Specialist, IFC

Mr. Rajesh Adhyam, Vice President, Suez Environment India Private Ltd.;
Mr. Prakash Gaur, CEO, Andhra Pradesh Urban Infrastructure Asset Management Limited

Q&A

15:00

Tea/Coffee break at Rani Bagh Lawns

15:30

Panel Discussion: Waste Management Financing and PPPs

Moderator: Mr. Rajesh Sinha, Principal Investment Officer, Global Cities Team, IFC

Mr. Vishal Singh, Secretary, Varanasi Development Authority;
Dr. M. Muthuraman, Head, Waste Management, NTPC Ltd;
Mr. Vinod Kumar Jindal, Joint Secretary (Swachh Bharat Mission), Ministry of Housing & Urban Affairs (TBC);
Mr. Rakesh Agarwal, Managing Director, Ecogreen Energy Private Ltd.;
Mr. James D. Michelsen, Global Solid Waste Management Specialist, IFC

Q&A

IV. Closing and Next Steps

17:00

Keynote Address

Mr. Gurdeep Singh, Chairman & Managing Director, NTPC Ltd.

17:15

Closing Remarks

Ms. Isabel Chatterton, Manager, PPP Transaction Advisory, Asia-Pacific, IFC;
Mr. Zsolt Pakozdy, Senior Economic and Commercial Counsellor, Embassy of Hungary.

17:30

Way Forward

Ms. Elena Bourganskaia, Senior Manager & Global Cities Head, IFC.

Vote of Thanks

Ms. Xueman Wang, Program Coordinator, GPSC, World Bank
Second Annual Meeting of the Global Platform for Sustainable Cities (GPSC)
Day 2 | Tuesday, October 31
9:00 to 13:00
Opening Plenary – Celebrating World Cities Day
Mayors Roundtable
 I. Opening and Keynote Address

9:00

Welcome Remarks

Mr. Junaid Kamal Ahmad, World Bank Country Director for India;
Ms. Naoko Ishii, CEO, Global Environment Facility (GEF)

9:20

Keynote Speech: India's Strategy for Managing Urban Sustainability

Mr. Hardeep Singh Puri, Hon'ble 

Minster

of State (Independent Charge), Ministry of Housing and Urban Affairs, Government of India;
Mr. Anil Kumar Jain, Additional Secretary, Ministry of Environment, Forest & Climate Change

9:45

India Platform for Sustainable Cities

 

Mr. Vinod Kumar Jindal, Joint Secretary (Swachh Bharat Mission), Ministry of Housing & Urban Affairs;

Mr. Tareq Emtairah, Director, Department of Energy, UNIDO;
Mr. Ede Ijjasz-Vasquez, Senior Director, Global Practice for Urban, Rural,

Social

and Resilience, World Bank

10:00

Celebrating World Cities Day

10:15

Tea/Coffee break at Rani Bagh Lawns

II. Mayors Roundtable: From Vision to Action

The Roundtable will bring together Mayors and senior policymakers from around the world to discuss and share insights on delivering results and building a pathway to urban sustainability.  Participants are invited to address the following questions:

This session is intended to be interactive with moderated discussions.

Moderator: Mr. Ede Ijjasz-Vasquez, Senior Director, Global Practice for Urban, Rural, Social and Resilience, World Bank

10:45

Introduction by Moderator

Keynote presentations

Discussions

Summary of Key Messages

13:00

Lunch at Rani Bagh Lawns 
14:00 to 18:00
Integrated Approach to Urban Planning and Financing
III. GPSC Urban Sustainability Framework – USF

The Urban Sustainability Framework (USF) is a guidance document with the objective to assisting cities achieve urban sustainability through three key pillars: measuring, planning and financing.   The GPSC team will introduce the USF and a panel of city representatives and experts will share their insight on urban strategies and implementation. 

Moderator: Mr. Ani Dasgupta, Global Director, WRI Ross Center for Sustainable Cities

14:00

Introduction by Ms. Naoko Ishii, CEO, GEF and Mr. Ede Ijjasz-Vasquez, Senior Director, World Bank;
Presentation of USF by Ms. Xueman Wang, Program Coordinator, GPSC, World Bank.

14:20

Panel Discussions

15:30

Tea/Coffee break at Rani Bagh Lawns

IV. Financing Urban Sustainability

International financial institutions, or IFIs, have launched initiatives that link technical assistance programs to urban investments. In this session, representatives from Cities and IFIs will outline the challenges and opportunities they face in financing sustainable cities.

 

15:45

Welcome Remarks and Introduction: IFI network to support sustainable urban investment

Mr. Ede Ijjasz-Vasquez, Senior Director, World Bank
Ms. Naoko Ishii, CEO, GEF

16:00

First Panel Discussion: City and Country perspectives- challenges on financing urban sustainability

Chair: Mr. Ralph Sims, Board Member, Scientific and Technical Advisory Panel, GEF

Ms. Nicole Gemayel, Mayor of Municipal Council of Bikfaya- Mhaydsse, Lebanon
Mr. Americo Zuniga Martinez, Presidente Municipal of Xalapa, Mexico
Mr. Palash Srivastava, Director, Government Banking Group, IDFC Bank, India

16:30

Second Panel Discussion: IFI Perspective: Responses to challenges raised by cities

Chair: Mr. Ralph Sims, Board Member, Scientific and Technical Advisory Panel, GEF

IFI representatives take the stage and will each make a 2-minute intervention on their biggest achievement and initial response to challenges raised by cities.

Mr. Kevin Milroy, Sr. Operations Officer, Partnerships and Resource Mobilization Unit, World Bank;
Mr. Mahamat Assouyouti, Senior Climate Change Officer, GEF Coordination Unit, Environment and Climate Change Division, African Development Bank;
Mr. Tsakani Manyike, Senior Deal Originator, Development Bank of South Asia;
Ms. Elena Bourganskaia, Senior Manager and Global Head for Cities, IFC;
Mr. Xiao Wang, Economist, AIIB;
Mr. Nigel Jollands, Associate Director, Policy and Climate Finance, European Bank for Reconstruction and Development;

17:30

Q&A

17:45

Wrap of Day 2

18:00

Reception at Rani Bagh Lawn
Day 3 | Wednesday, November 1
Climate Change Dimension of Integrated Planning:  Paris Agreement and city actions
 I. The Science of Planning and Climate Change

The panel session will begin with presentations that lay down the science behind a city's adaptation and mitigation actions. What are the drivers of urban GHG emissions?  How does urban form (density, land use mix, connectivity, accessibility) contribute to GHG emissions?  How can integrated planning contribute to climate change mitigation?  How do available planning tools and other forces – investment, migration, economic geography - shape these aspects of urban form?

Moderator:   Mr. Madhav Pai, Cities Director, World Resource Institute India

9:00

Presentation on summary of drivers/data or urban GHG emission and overview on effective actions/policies/ tools that cities plan for climate change mitigation in the urban planning sphere.

Ms. Anuradha Ramaswami and Mr. Charles M. Denny, Jr., Chair of Science, Technology, and Public Policy, Humphrey School of Public Affairs, University of Minnesota

9:20

Presentation on Deadline 2020 – How Cities Will Meet the Paris Agreement

Ms. Andrea Fernandez, Director of Governance and Global Partnerships, C40

9:40

Ms. Soumya Chaturvedula, Senior Manager, Energy and Climate, ICLEI

10:00

Q&A

10:15

Tea/Coffee break at Rani Bagh Lawns

II. City Actions and panel discussion

Panelists will examine the tools that cities have at their disposal to reduce GHG emissions, and identify ways to bridge the gap between the immediate pressures that often shape planning decisions and consideration of longer-run, larger-scale impacts.  Addressing this gap is critical for building bridges between climate commitments at the national level and city actions to reduce emissions and moving toward more integrated planning.

Moderator:  Ms. Emani Kumar, Deputy Secretary General, ICLEI & Executive Director, ICLEI South Asia

10:30

Applying the GHG Inventory Methodology to the Indian Cities

Mr. Sanjay Dube, Vice President, South Asia, International Institute for Energy Conservation (IIEC)

10:40

Action Guide for Local Climate, Brazil

Mr. Jorge Abrahão, General Coordinator, Sustainable Cities Program, Our São Paulo Network

10:50

Ms. Sahar Shirazi, Senior Planning Advisor, Office of Planning and Research, Governor of California's Office.

11:00

Tokyo Metropolitan Government's Carbon Reporting Scheme

Mr. Hiroyuki Miyata, Director, Carbon Reporting Program for SMFs

11:10

Mr. Yann Francoise, Head of Climate Policy And Strategies, Parks and Environment Directorate, Urban Ecology Agency, City of Paris

11:20

 

Mr. Mogens Bjørn NIELSEN, Head of Department, City of Aarhus

11:30

Planning and policy tools to reduce GHG emissions at the City level

Ms. Jessica Seddon, Director, Urban Development, WRI
Mr. Eric Mackres, Manager, Building Efficiency, WRI

11:40

Q&A

12:30

Lunch at Rani Bagh Lawns 
13:30 to 15:30
Managing Urbanization to Build a Sustainable City
III. Managing Urbanization: Lessons and Insight

The world is urbanizing at an unprecedented rate.  Managing urbanization will become one of the greatest challenges – and prospects – of our time. This session will feature leaders and experts outlining the issues facing their cities and their respective strategies in transforming these challenges into opportunities and highlighting the importance of integrated urban planning and financing. 

Moderator: Ms. Sumila Gulyani, Program Leader, World Bank India Office

13:30

Urban China: Opportunities and challenges – case of Chongqing, China

Mr. Linjun Zhou, Expert and former Director General of Development Reform Commission of Chongqing, Lead Author of Chongqing 2040 Report
Ms. Xueman Wang, World Bank

Comments from Discussants

Mr. Reuben Abraham, CEO, IDFC Institute, India
Mr. Ede Ijjasz-Vasquez, Senior Director, World Bank

Discussions and Summary

IV. Closing Session – Planning for Next Steps

15:00

GPSC Participating cities, Implementing Agencies and GPSC

15:30

Closure of GPSC Second Annual Meeting