Transit-oriented Development Learning Day
Where
World Bank Headquarters, Washington DC
Transit-oriented Development Learning Day 
On March 18, a Transit-Oriented Development (TOD) Learning Day was held as part of the World Bank's Social, Urban, Rural, and Resilience Global Practice (GSURR) Learning Week. The event was organized by the Global Platform for Sustainable Cities (GPSC) and the TOD Community of Practice (CoP) at World Bank Headquarters in Washington, DC. World Bank staff and GPSC collaborators who attended learned about how land use, transportation planning and land value capture solutions can be integrated through the concept of TOD.  
A guidebook developed by the World Bank's TOD CoP, GPSC, and IBI Group titled "TOD Implementation Resources and Tools" formed the basis for the learning day's curriculum. By integrating TOD strategies into city processes, a good integration of land use, transport, urban design, and zoning can be leveraged to maximize the economic value of infrastructure investment, while at the same time reducing carbon emissions. 
The event was conceptualized by the World Bank's GPSC to operationalize the TOD guidebook. GPSC was created to promote an integrated approach to sustainable urban planning and financing. The platform comprises 28 cities across 11 countries and is supported by the Global Environment Facility (GEF). Each GPSC city has projects that are funded directly by GEF, and many of these projects have incorporated TOD strategies into their activities. 
The day's agenda comprised of opening remarks, case studies, a role-playing game, and a panel discussion which all focused on the TOD guidebook's "Plan+Design" and "Financing" stages of the process. It started with remarks highlighting the importance of development outcomes, and how projects can leverage TOD strategies in an effort to bring such outcomes to projects. Following the opening remarks, GPSC's John Good introduced the basics of TOD, explaining why it matters to cities and the World Bank and how the TOD guidebook could be leveraged for better planning, design and financing implementation. He also explained how Singapore, as an aspirational development model, incorporates TOD strategies to achieve a more sustainable city. 
Experts from Broadway Malyan presented a TOD case study of Dar es Salaam, Tanzania and then the participants formed breakout groups in a game format to propose different scales of TOD hubs (main hub, district hub and neighborhood hub) along the city's BRT line. Maps and other background information were provided to assist participants in creating their own rationale for developing the corridor. To conclude this portion of the game, each team presented their model to the other participants and the positive and negative considerations of each proposal were weighed.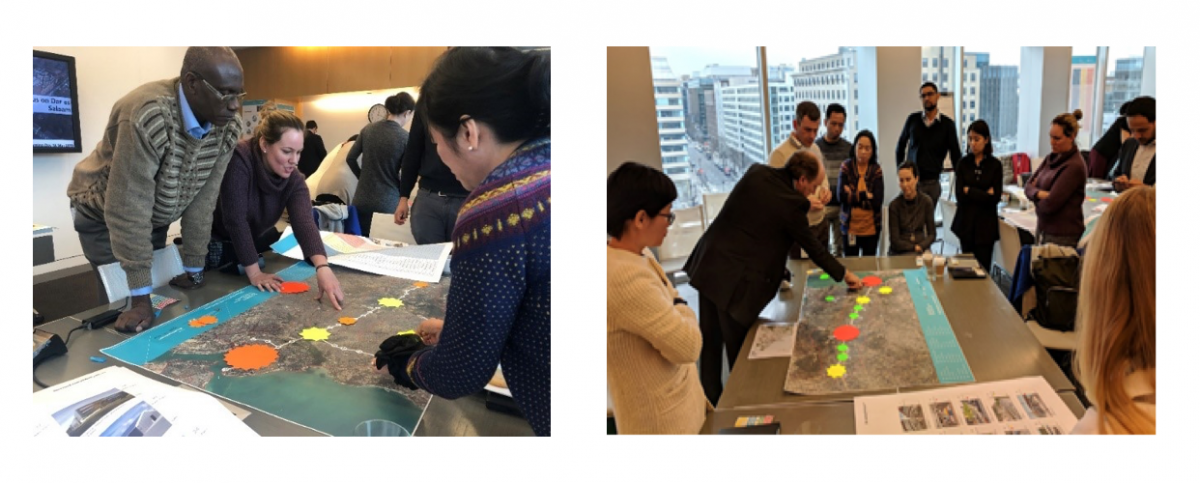 Above: Participants located hubs on the BRT corridor and made development decisions through an interactive session designed by Broadway Malyan.    
After a break, participants turned their attention to a specific station in Dar es Salaam – Ubungo – which project consultants had determined was a promising area for development. This portion of the role playing game, named the "TOD Role Out", was developed by IBI Group as part of the TOD guidebook. Each participant was given a role to play, ranging from mayor to transport planner to real estate developer to NGO leader, with clearly specified incentives and trade-off considerations listed. Using a variety of land use game pieces, the teams developed a walkable, mixed-use TOD design for the Ubungo site. A lively wrap-up discussion was held where participants' roles in the decision-making process and viewpoints were summarized.
Above: Participants during the interactive TOD design game, designed by IBI as part of the TOD Knowledge Resource 
The "Finance" portion of the day was led by Robin King from the World Resources Institute (WRI) where she presented several world-wide best practices for land value capture (LVC), with a special focus on Brazilian cities. In the last portion of the game, the breakout groups regathered to consider which LVC mechanisms, from government land sales to special taxation assessments, would work best for their site in Tanzania, in order to implement their earlier envisioned instigations.  
At the end of the day, participants and session organized discussed how to turn these ideas into reality, including how to build technical capacity for implementation, mitigating political risk to ensure continuity over a long time, and the basics of filling financing gaps. When considering financing options, there was a discussion of how to balance economic development subsidies and the necessity to capture value and raise new revenue sources/rebalance taxation. Participants debated whether Singapore could really be a worthwhile reference for developing country cities. The discussion also considered the political realities of many of these developing country cities, agreeing that a strong champion for any urban vision is essential. 
Agenda 
8:30 – 9:00

Registration

Session 1: Introductions & Key Principles

9:00 – 9:15

Opening Remarks

Anna Wellenstein, Director, GSURR

Introduction of the World Bank's GPSC and the TOD CoP

Xueman Wang, Program Manager, GPSC
Chyi-Yun Huang, Co-lead, TOD CoP

9:15 – 10:00

Overview of TOD Principles

Why it matters to our clients and the World Bank
What are the central challenges facing our clients when trying to implement TOD?
What tools are needed most urgently? Data, designs, and financing structures?
TOD Timeline: from Planning to Implementation
Overview of the TOD Guidebook

10:00 - 10:20

TOD in Comprehensive Planning – The Example of Singapore

John Good, Consultant, TOD CoP

10:20 - 10:35

Coffee Break

Session 2: Plan + Design

10:35 – 10:55

Case Study: Design for TOD, Dar es Salaam

10:55 – 12:10

Plan + Design focus, with activities (e.g. how-to corridor plan, site-level plan, zoning, land amalgamation)

12:10 – 13:10

Lunch

Session 3: Interactive Workshop & Panel Session

13:10 – 14:40

Role-Playing Game (TOD guidebook section EN-C02)

Splitting participants into transport planners, developers, urban planners – 3 groups of 10 each
Assembling and presenting a sample TOD plan

14:40 – 14:55

Coffee Break

Session 4: Finance

14:55 – 15:15

Case Study: Land Value Capture Policies in Brazil

15:15 – 16:30

Finance Group Breakout

Session 5: Wrap-Up

16:30 – 17:15

Panel Discussion on Challenges & Opportunities for TOD

Phil Bonds, Broadway Malyan
Robin King, WRI
Filipe Targa, TOD CoP