GPSC Working Group Meeting: Green Urban Development – Biodiversity, Natural Capital Accounting and Nature-Based Solutions for Cities
Where
World Bank Headquarters, Washington, DC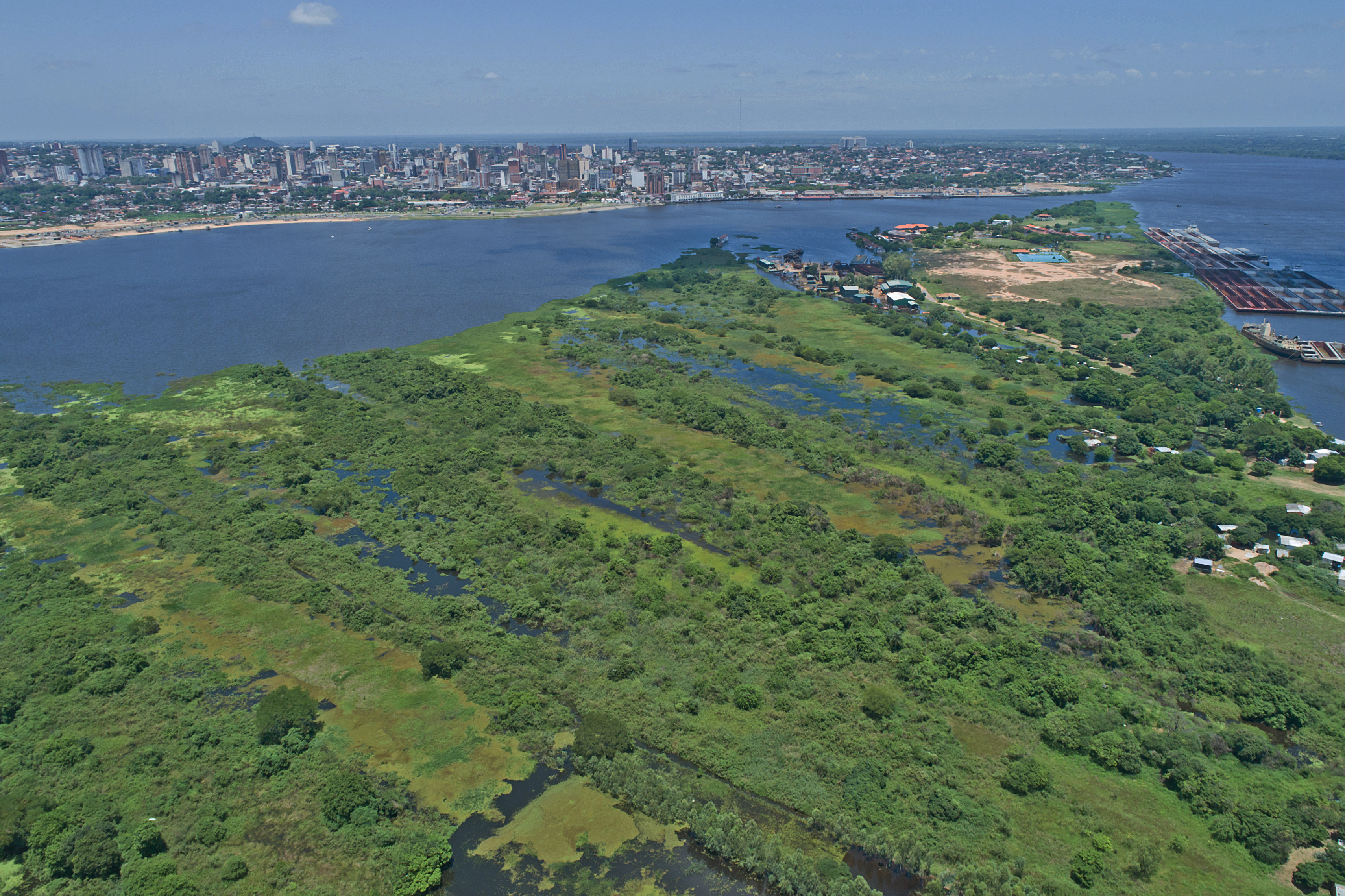 Photo: Aerial view of Ecological Reserve of Banco San Miguel and Bahia de Asuncion by © PNUDParaguay/Rene Gonzale
Meeting Organizers and Objective
The Working Group Meeting "Green Urban Development: Biodiversity, Natural Capital Accounting and Nature-Based Solutions for Cities" was presented by the Global Platform for Sustainable Cities (GPSC) in collaboration with the International Union for Conservation of Nature (IUCN) and the Nature Conservancy (TNC).
The meeting's objective was to bring together experts and city representatives to:
• 
Facilitate an understanding of approaches to city biodiversity conservation and creation, and methods for accounting of city-level natural capital;
• 
Discuss how cities can be supported to integrate biodiversity strategies and the benefits of natural capital into their planning processes.
Key Documents
Please download the working group meeting's key documents below.
Event Agenda and Presentations
Please download the working group meeting's presentations via the green links which are shown within the agenda.
Day 1
8:30 – 9:00

Registration and Continental Breakfast Outside Meeting Room

Session 1: Opening of the Working Group Meeting

9:00 – 9:40

Objectives of the Meeting (Xueman Wang, GPSC Program Coordinator, World Bank)

Remarks by the GEF Secretariat

Rapid Introduction of Participating Cities and Organizations

(Batch 1, 20 min) Representatives of cities and organizations are invited to share a short presentation on their main undertakings in the areas of city biodiversity, natural capital accounting and nature-based solutions in the context of green urban development. The introduction will be conducted in batches throughout three sessions during day 1 (for the order of the presentations, see the annex).

Opening Remarks (Sameh Wahba, Director, World Bank)

Session 2: Framing and Overview

Moderated by Rob McDonald, Lead Scientist, TNC

9:40 – 10:30

Presentation of the Working Paper: Green Urban Development - A Framework for Integrating Biodiversity and Ecosystem Services, Natural Capital Accounting and Natural Infrastructure (Xueman Wang, GPSC, World Bank, and Ashley Gorst, Vivid Economics, 20 min)

Discussion

How would city biodiversity, natural capital accounting, and natural infrastructure contribute to a city's green vision?
What are the key challenges of incorporating these issues into urban planning process?

10:30 – 10:45

Coffee Break

Session 3: City Biodiversity

Moderated by Professor Richard Weller, Chair of the Department of Landscape Architecture and Co-executive Director of the Ian L. McHarg Center for Urbanism and Ecology, University of Pennsylvania

10:45 – 12:30

Rapid Introduction of Participating Cities and Organizations

(Batch 2, 20 min)

Overview: Approaches to Quantifying Biodiversity and Ecosystem Services in the Urban Context (Rob McDonald, Lead Scientist, TNC, 15 min)

City Practice (30 min)

City of Edmonton, Canada: Grant Pearsell, Director of Urban AnalysisSingapore Biodiversity Index: Lena Chan, Senior Director, International Biodiversity Conservation Division at the National Parks Board of Singapore
City of Sao Paulo, Brazil: Rodrigo Ravena, Chief of Staff of the Secretariat for Green and the Environment

Q&A

12:30 – 13:30

Lunch

13:30 – 14:45

Rapid Introduction of Participating Cities and Organizations

(Batch 3, 20 min)

City Biodiversity – Discussion (Cont'd)

How would city biodiversity contribute to a city's green vision? What are the key steps to planning for biodiversity and ecosystem services in a city? What are the key challenges for implementation?
What are the key indicators used for monitoring city biodiversity? How is the data collected?
What information is needed to support decision-making? How can data be packaged and communicated to maximize influence on decision-making?
What lessons and experience can be drawn from cities?

14:45 – 15:00

Coffee Break

15:00 – 17:00

Cities in Action (1.5 hr)

We will break into three groups, each focusing on one or two cities. City representatives will lead discussions, identifying challenges and strategies in establishing and implementing city biodiversity and incorporating into city's planning process. Experts in each breakout group will facilitate the discussions and help cities with the strategy and next steps.

Plenary Reports (30 min)

Each breakout group will report back to the whole meeting on:

Strategies for overcoming the challenges and constraints
Opportunities and key constraints for a city to pursue city biodiversity
Plan for the next steps

Participating Cities

Asuncion, Paraguay
Sakumo Ramsar Site, Ghana
Ilhéus, Brazil

17:00

Wrap Up of Day 1

17:30

Reception
Day 2
8:30 – 9:00

Continental Breakfast Outside Meeting Room

Session 4: City Natural Capital Accounting and Nature Based Solutions

Moderated by Russell Galt, Director, IUCN Urban Alliance

9:00 – 10:45

Natural Capital Accounting at the National Level: From WAVES to the GPS Program

(World Bank, 15 min) Natural capital accounting at the national level: Wealth Accounting and Valuation of Ecosystem Services (WAVES) Raffaello Cervigni, Lead Environmental Specialist, World Bank

City Natural Capital Accounting (45 min)

Stirling: Jim Rouquette, Director, Natural Capital Solutions
London: Peter Massini and Ashley Gorst, Vivid Economics
Singapore: Peter Edwards, Professor, Future Cities Laboratory

Q&A and Discussion

Whether and how could the methods for national-level capital accounting be used for city-level accounting? What are the tools for data collection?
How would natural capital accounting in cities be utilized for urban planning processes?

10:45 – 11:00

Coffee Break

11:00 – 12:00

Integrating Green and Gray Infrastructure to Support Urban Water Security, Climate Resilience, and Biodiversity (Steve Carrion, World Bank, and Suzanne Ozment, WRI, 30 min)

Q&A

14:30 – 15:30

Discussion

What are the interactions among city biodiversity, natural capital accounting and nature-based urban infrastructure?
How would cities incorporate these three topics into urban planning processes, including spatial planning?

15:30 – 17:00

Cities in Action

We will form a number of small groups – each will support one city to prepare an action plan on how to enhance a city's natural capital (including biodiversity) and incorporate these considerations into the city's strategic green vision and urban planning processes for implementation.

 

Key considerations include:

Threats to these key assets and ecosystem services?
The role that nature plays in the vision and strategy of a city?
Planning processes and decisions that could safeguard key assets and ecosystem services, or mitigation threats?
Data/tool needs to support these planning decisions?
Key steps (pressing requirements) that incorporate city biodiversity, natural capital accounting, and nature-based solutions into urban strategic plans and implementation?

(Cities that will participate in GEF Sustainable Cities programs may flesh out specific project activities to support their action plan.)

Participating Cities

Mendoza, Argentina
Ningbo, China
Anápolis, Brazil
Kigali, Rwanda

17:00

Wrap Up of Day 2
Day 3
8:30 – 9:00

Continental Breakfast outside Meeting Room

Session 5: Presentation of City Action Plans and Feedback

9:00 – 11:30

Presentation of City Action Plans

Each presentation will be followed by expert feedback and discussion:

Mendoza, Argentina
Ningbo, China
Anápolis, Brazil
Kigali, Rwanda

11:30 – 11:45

Coffee Break

11:45 – 12:00

Next Steps and Conclusion of the Meeting (GPSC)

12:00 – 1:00

Lunch