Innovate4Cities 2021 Conference. Greater Than Parts: A Metropolitan Opportunity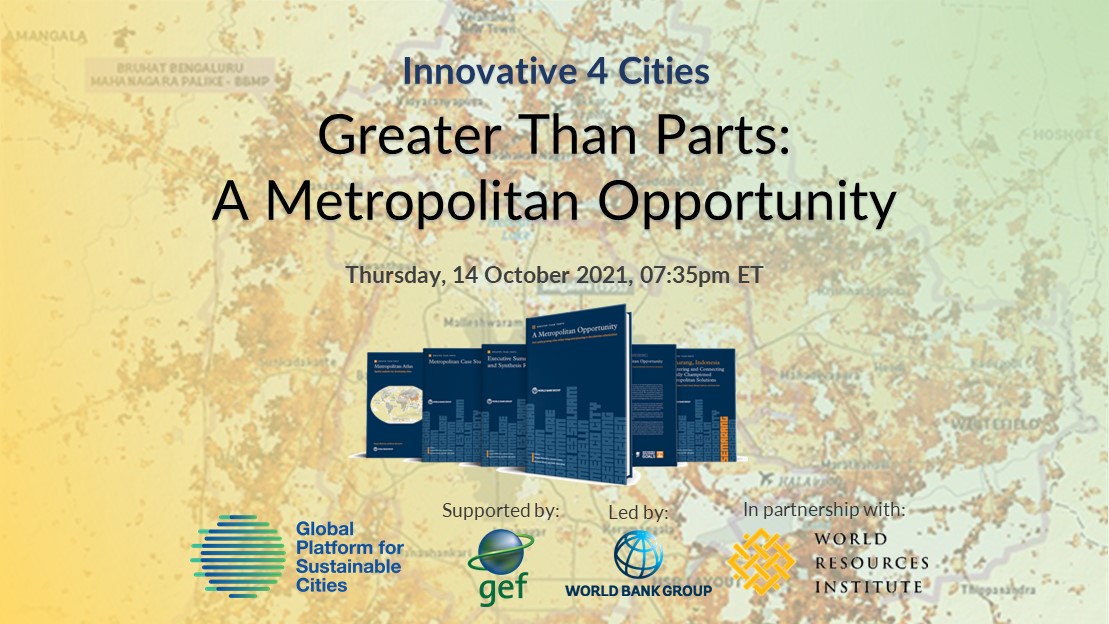 This event unpacks global successes drawn from the new report "Greater Than Parts: A MetropolitanOpportunity" to share how developing and emerging economies are successfully utilizing integrated approaches extending well beyond city boundaries to deliver accelerated climate action. An overview of the report's nine diverse metropolitan case studies is provided, along with a selection of their urban innovations focusing on horizontal integration—across multiple infrastructure systems. The event discusses new analyses, derived models, and guiding questions to provoke and inspire action by cities. "Greater Than Parts" was led by the World Bank, with contributions from the World Resources Institute, and supported by the Global Environment Facility.
Speakers include renowned practitioners, policymakers, and scholars representing global and local expertise. The metropolitan cases of Shenzhen (China), Medellin (Colombia), Semarang (Indonesia), Ahmedabad and Bangalore (India), Amman (Jordan), Mexico City (Mexico), Dammam (Saudi Arabia), and Dar es Salaam (Tanzania) offer deep insights from a wide range of geographies, climates, and socio-economic contexts.
Cities are the source of over 70% of the world's greenhouse gas emissions, while also being the engines of the global economy, concentrating more than half the world's population. Earth is on a trajectory of warming more than 1.5°C unless important decarbonizing steps are taken. Often policymakers prescribe integration as the solution to steering urbanization towards decarbonization to achieve greater global and local environmental benefits. The event shares some of the struggles—and successes—that cities around the world are having in planning, financing, and implementing integrated urban solutions at scale.
Chair
Xueman Wang, Senior Urban Specialist and GPSC Coordinator, World Bank
Opening Remarks
Sameh Wahba, Global Director, Urban, Disaster Risk Management, Resilience and Land, World Bank
Global Overview Presentation and Cases Discussion
Shagun Mehrotra, Senior Advisor, World Resources Institute.
Case Study: Amman, Jordan


Myriam Ababsa, Social Geographer, Ifpo (French Institute of the Near East)
Case Study: Mexico City, Mexico
Beatriz Cardenas, Air Quality Director, World Resources Institute (WRI) Mexico 
Case Study: Semarang, Indonesia


Wiwandari Handayani, Associate Professor, Diponegoro University
Discussant
Joanna Masic, Global Lead for Sustainable City Infrastructure and Lead Urban Specialist, World Bank
Closing Remarks
Ani Dasgupta, President and CEO, World Resources Institute