GPSC Global Online Series. Resilient Waste Management: Addressing Challenges during COVID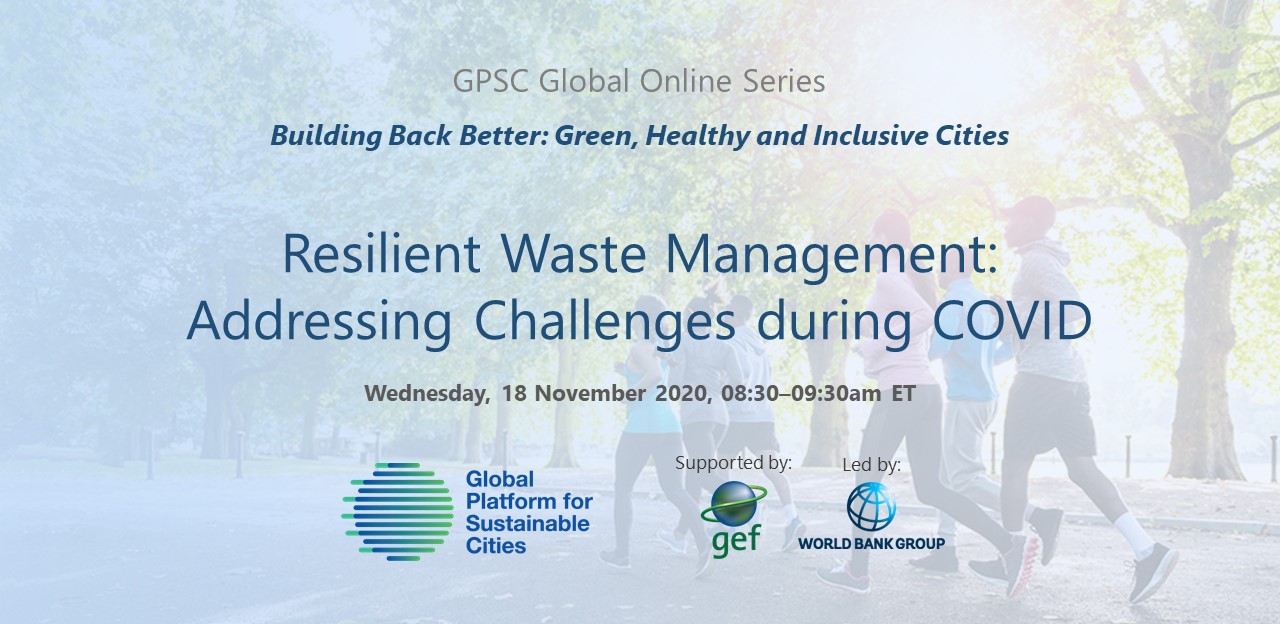 The Global Platform for Sustainable Cities (GPSC) is organizing a weekly online series focusing on how cities can leverage the COVID-19 pandemic's unprecedented disruption to facilitate a green recovery and improve their long-term urban sustainability. This webinar is focused on municipal solid waste management and how challenges due to COVID are being addressed. In addition to challenges to delivery of services, there has also been an increase in both medical waste and single-use plastics due to increased concerns regarding health and safety. The webinar will touch on initiatives being undertaken from these resulting challenges in Argentina and India at the local and national levels.
Catalina Marulanda

,

Practice Manager, Urban Development and Land, South Asia,

 World Bank
Mir Mohammed Ali, E
xecutive Director of Kerala State Sanitation Mission and Secretary to the Chief Minister of Kerala, India
Closing Remarks
Catalina Marulanda
, 
Practice Manager, Urban Development and Land, South Asia,

 World Bank
Bios
Mr. Marcelo Eduardo Rosso is the New Technologies and Environmental Control Manager at Coordinación Ecológica Área Metropolitana S.E. in Buenos Aires, Argentina and was previously the Operations Manager. He teaches post graduate courses for the Instituto Tecnológico Buenos Aires and the Instituto Tecnológico Buenos Aires and Karlsuhe Institute of Technology – Alemania. He is an industrial engineer, specialized in the integral management of urban, industrial, and hazardous solid waste. Mr. Rosso is a consultant for the Interamerican Development Bank and the World Bank. He has been the Chairman of the Asociación para el Estudio de los Residuos Sólidos in Argentina, the local member of International Solid Waste Management Association, since November 2018. He is the Argentinian representative in the Subcommittee of Municipal Solid Waste of the Global Methane Initiative, Environmental Protection Agency USA. He has been an ISWA International Waste Manager, with IWM11109 international certification since October 2011, and with further professional development in the Federal Republic of Germany. 
Mir Mohammed Ali is an IAS officer from the 2011 batch, currently holding the positions of executive director of Suchitwa Mission [Sanitation mission under the Department of Local Self Government (LSG)] and Secretary to the Chief Minister of Kerala. Mr. Ali is playing a key role in strengthening Suchitwa Mission as the Technical Support Group (TSG) in Waste Management sector under the Department of LSG for providing technical and managerial support to the Local Self Governments of the State. He is also leading the team of 25 people in conceptualizing, action planning, conducting creative workshops, organizing training programmes, initiating sector related studies, bringing out occasional papers, initiating action research, conducting monitoring and such other activities in Waste Management Sector. Under Mr. Ali's leadership the state has developed and adopted the Integrated Solid Waste Management Strategy for the state of Kerala. He is also the Project Director of World Bank financed Kerala SWM Project. In his earlier roles, he served as District Magistrate for Kannur district in the state of Kerala. 
Mr. P.U. Asnani is an international expert on Solid Waste Management and working in the urban & rural sector for over 35 years. Mr. Asnani's has a wide experience of working with the Central Government, various state governments, civic authorities both nationally and internationally and by multilateral agencies such as UN and the World Bank. Mr. Asnani is on a panel of various expert committees constituted by ministries in the Government of India including (a) Expert member on the Central Monitoring Committee to oversee the implementation of SWM Rules, (b) member of National Technical Advisory Committee for implementation of SLWM constituted by Ministry of Jal Shakti, Department of Drinking Waste and Sanitation, (c) member on the expert committee constituted by Ministry of Urban Development to evaluate and recommend appropriate and sustainable technologies for processing of solid and liquid wastes, and (d) chairman of expert committee for evaluation of waste to energy proposals amongst others. Mr. Asnani was also a member of the Supreme Court appointed Expert Committee on Solid Waste Management for class I cities of India and also authored the Supreme Court committee report.
Catalina Marulanda is the Practice Manager of the Urban Development Unit in the South Asia Region. As such she oversees a portfolio of roughly US$5 billion in lending operations under development and implementation in Afghanistan, Bangladesh, Bhutan, India, Nepal, Pakistan, Sri Lanka and The Maldives. Over the past 14 years at the Bank Catalina has focused on topics related to solid waste management, chemicals management, and brownfield remediation in Latin America, East Asia, South Asia and the Middle East. Catalina has a Bachelors Degree in Civil Engineering from Lehigh University and a Ph.D. in Civil Engineering from the Massachusetts Institute of Technology.