GPSC Global Online Series: Catalyzing Private Investment in Climate Smart Cities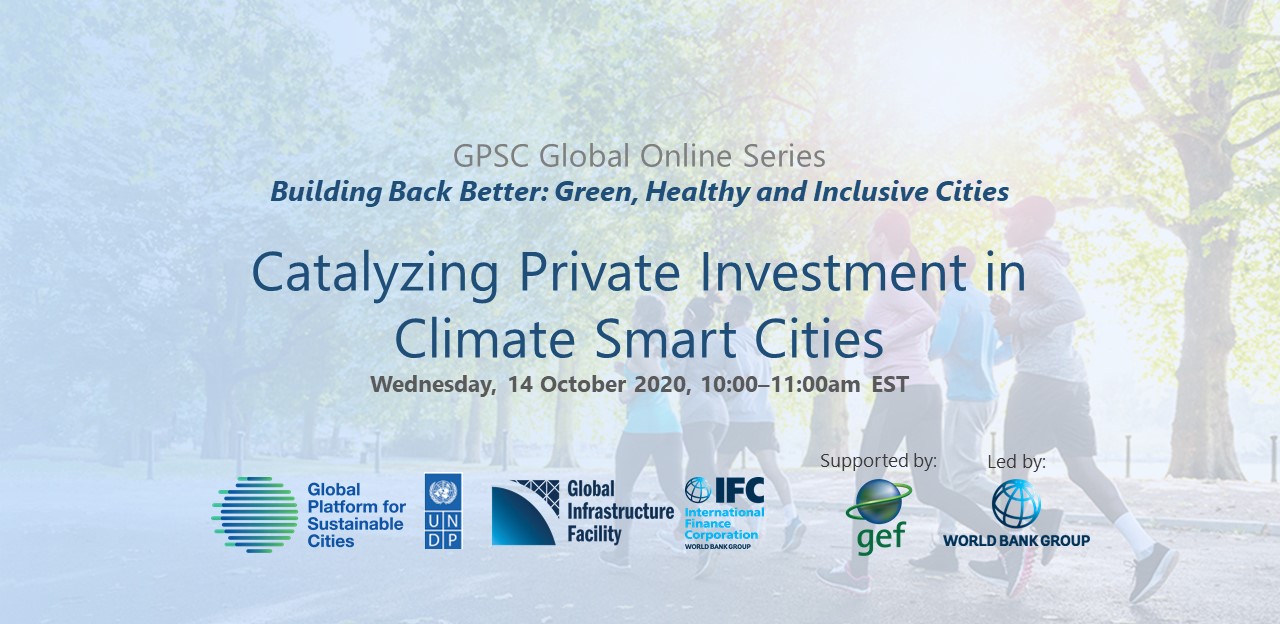 The global online series titled Building Back Better: Green, Healthy and Inclusive Cities is hosted by GPSC and presented in partnership with a wide range of the platform's partners to support cities integrating initiatives into their pandemic recovery efforts. The series brings together the perspectives of cities, multilateral development banks, UN agencies, knowledge partners, private sector and think tanks.
Through a series of reports, the Invest4Climate platform, co-managed by the World Bank Group and UNDP, looks at key climate sectors and reviews progress and lessons: what are barriers in scaling-up private investment and what are innovative financing approaches and case studies that can be learned from to de-risk projects, recycle lender capital, scale private investment in urban infrastructure and mobilize investment from institutional investors. The event, Catalyzing Private Investment in Climate Smart Cities, presents the joint UNDP and World Bank Invest4Climate report, that offers a framework for understanding urban climate investment opportunities and barriers and features ten case studies of innovative financing approaches to overcome these barriers, including natural capital insurance products for urban coastal resilience in Mexico, green bulk procurement of E-buses in Chile, and bonds that incentivize investment in green technologies that reduce emissions and air pollution. 
Opening Remarks
Sameh Naguib Wahba, 

Global Director, Urban, Disaster Risk Management, Resilience and Land Global Practice, World Bank
Pradeep Kurukulasuriya,

Director, Nature, Climate and Energy & Executive Coordinator- Environmental Finance, UNDP
Barbara Buchner,

Director Cities Climate Finance Leadership Alliance (CCFLA)
Presentation of Key Report Findings
Lauren Carter,

co-lead Invest4Climate, UNDP
Case Studies
Jaffer Machano,

Global Program Manager for Municipal Investment Finance (MIF) Program UNCDF, presentation of International Municipal Investment Fund (IMIF)
Moderator
Jan Kellet, 

Special Advisor, Finance Sector Hub, UNDP
Visit the GPSC website to learn more about the Global Online Series here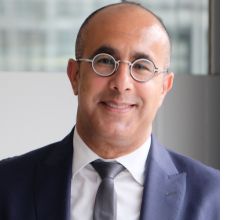 Sameh Wahba is the Global Director of the Urban, Disaster Risk Management, Resilience and Land Global Practice at the World Bank. The Global Practice, which also covers territorial development, geospatial and results-based-financing issues, has a portfolio of close to $30 billion in commitments in investment projects, program-for-results and development policy lending, and about 450 staff. He holds a Ph.D. and Master's degree in urban planning from Harvard University, and a B.Sc. and M.Sc. in Architectural Engineering from Cairo University.
Pradeep Kurukulasuriya is the Director of Nature, Climate & Energy and also the Executive Coordinator of Environmental Finance at UNDP. Until recently, he was the Head of UNDP's Climate Change Adaptation program where he led UNDP's support to more than 120 countries around the world to access, combine and sequence financing from the various global climate funds, including those managed by the Global Environment Facility (GEF) and the Green Climate Fund. An environmental economist by training, Pradeep holds a PhD from Yale University, and a Master of Philosophy from Cambridge University (UK). He has numerous publications in leading international economics journals.
Dr. Barbara Buchner is the Global Managing Director of Climate Policy Initiative (CPI), and also the Executive Director of its Climate Finance program. Named one of the 20 most influential women in climate change, Barbara advises leaders on climate, energy, and land-use investments around the world. Barbara directs the Global Innovation Lab for Climate Finance, (the Lab). The Lab's public-private approach solicits, shapes, and tests cutting edge climate finance instruments that resolve financing barriers hindering alternative energy, adaptation, and land use projects. She is also the lead author on CPI's Global Landscape of Climate Finance, which set the benchmark for climate finance tracking. She is on the Advisory Board of the BCFN Foundation, the Evaluation Board of the World Economic Forum's Sustainable Energy Innovation Fund, and a member of the One Planet Lab.
Sandrine Boukerche is a Climate Change Specialist in the Urban, Disaster Risk Management and Land (GPURL) Global Practice of the World Bank, who leads the World Bank's engagement in the Invest4Climate platform. She has more than a decade of experience working on a series of climate change areas including climate finance and investment, carbon operations, trust fund management and climate change corporate strategy and is a core member of the City Climate Finance Gap Fund. Sandrine holds an MA in International Relations and Economics from the Johns Hopkins School of Advanced International Studies (SAIS), Diploma of economics from LSE and a BA from the University of Sussex.
Lauren Carter is a climate finance specialist based in Geneva who leads UNDP's engagement with Invest4Climate, a joint partnership with World Bank to crowd-in private investment for climate action in developing countries. Through her own advisory firm, she also works with governments, development finance institutions, climate funds and private investors to develop and scale climate-smart investments and strategies around the world. Previously, Lauren served as the Director of Climate Finance Initiatives for a boutique climate finance advisory in Morocco where she guided the government's engagement with the Green Climate Fund and other sources of climate finance. Lauren also worked as an Agriculture and Environmental Advisor with the Peace Corps in Burkina Faso, West Africa and in the private sector as a hedge fund analyst. Lauren received her MBA from HEC Paris and a B.A. from the University of Texas – Austin.
​Jaffer Machano
is the

Global Program Manager for the Municipal Investment Finance (MIF) Program at UNCDF in New York. The MIF program is currently innovating two new global initiatives: a global fund that will invest in municipalities in developing countries and regional transboundary investments in the water sector. Before joining UNCDF, Jaffer was the Head of Global Banking for Standard Chartered Bank (SCB) Tanzania in charge of Corporate Banking, Financial Markets and Trade Business divisions where he namely managed the SCB's investment of government infrastructure projects throughout Tanzania helped execute projects worth more than $1.5 billion. He is a Certified Financial Risk Manager (FRM) and a member of Global Association of Risk Professional (GARP).
Steven Baillie is a Principal Financial officer at the International Finance Corporation of the World Bank Group. He has 25 years of finance experience, including 12 years as a senior relationship manager with Citibank. Steven currently leads the New Products Unit in the IFC Climate Business Department where he collaborates with operational departments to develop and execute new climate finance structures.