By
What can we learn from Singapore to reshape the future of sustainable cities?
Singapore is a story of transformation – from a small trading post to a thriving cosmopolitan city. A densely populated small island with extremely limited resources, how did Singapore manage to evolve into a green, vibrant, and livable city?
In June 2019, I visited Singapore's Urban Redevelopment Authority, the Centre for Liveable Cities, and Bishan-Ang Mo Kio Park along with my World Bank colleagues and government officials from five Chinese cities participating in the Sustainable Cities Integrated Approach Pilot of the Global Platform for Sustainable Cities (GPSC). Co-organized by GPSC, the visit was part of a learning week aimed to strengthen urban sustainability and enrich peer-to-peer learning among cities. I would like to share few takeaways on the essential role of integrated urban planning in shaping sustainable, beautiful, and livable cities.
1. A holistic sustainable approach and a human-centered development strategy
Ang Mo Kio is a large neighborhood in Singapore where 145,000 residents live in public housing. Walking through the Ang Mo Kio neighborhood, I was impressed by the government's efforts to create vibrant and recreational green space for local communities.
One example is the Bishan-Ang Mo Kio Park, a flagship project of the Active, Beautiful, Clean Waters (ABC Waters) program, which was launched in April 2006 to transform Singapore's waterways and waterbodies beyond their utilitarian functions into beautiful and vibrant streams, rivers, and lakes, creating new community focal points that bring people closer to water.
Bishan-Ang Mo Kio Park employed a holistic sustainable approach that integrated several nature-based solutions to naturalize the Kallang river, which had previously been channeled through a concrete canal. When the river's water level is low, people can get closer to the water and enjoy recreational activities along the gently sloping river banks. During heavy rainfall, the surrounding park land doubles as a conveyance channel, carrying the flow downstream.
Bringing people closer to water helps raise their awareness of environmental responsibility. The green space not only provides a soothing environment for outdoor activities, but also reduces temperature thanks to increased tree coverage. Bishan-Ang Mo Kio Park is an innovative project example of green infrastructure that provides multiple benefits, including flood control, biodiversity conversation, and a healthy lifestyle.
And these benefits leave no one behind. As the city's aging population grows rapidly, Singapore's National Parks Board (NParks) has worked with the National University of Singapore to create rehabilitation gardens in Bishan-Ang Mo Kio and other parks. In Bishan-Ang Mo Kio Park, I saw a group of senior citizens gather in the social green space provided by the rehabilitation gardens. The elderly were performing simple gardening activities, which had positive effects on their physical and mental health.
Bishan - Ang Mo Kio Park (by Wei Wang)       
2. Green spaces for ecological services and recreation
Walking along the streets in Singapore, one can easily see buildings with vertical planting or rooftop gardens, thanks to Singapore's Landscaping for Urban Space and High Rises and Skyrise Greenery Incentive Scheme. Integrating a community climate cooling strategy into green urban development helps address the impact of heat island effect. These landscaping efforts also help provide recreational space and attract tourism.
For example, Changi Airport has been awarded "Best Airport" for consecutive years. The newly built Jewel, a nature-themed entertainment and retail complex, connected to three terminals, makes the airport even more attractive and appeals to thousands of passengers. I was impressed by its centerpiece, the world's tallest indoor waterfall, surrounded by a terraced forest setting. Multi-functional buildings are likely replicable in other cities.
Mr. Chuah Hock Seong, an Associate Director at NParks, shared with us how to reduce the maintenance and operational cost of greenery:
Getting the first thing right is critical;
Analyzing and choosing the appropriate plants and letting them grow into natural layers is likely to reduce the need of artificial pruning;
The utilization of disruptive technologies provides more effective and accurate ways to maintain plants. For example, every tree has an identification number, and all the treatment information is recorded in the system. As a result, unnecessary checking and conservation can be avoided.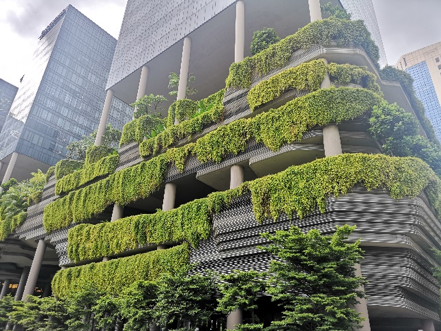 Parkroyal on Pickering, Singapore (by Wei Wang)
3. Sharing data to foster inter-agency collaboration and achieve integrated urban planning
Singapore's Urban Development Authority (URA) has built a reliable database that integrates data from other authorities – on population, housing, land use, infrastructure, transportation, and the social sector. It is a promising solution that easily visualizes, analyzes, and overlays rich datasets to support decision making. Shared across government agencies, the database also serves to help streamline development application processes.
In addition, URA's Digital Planning Lab has developed several user-friendly planning tools to allow professionals, businesses, and the public to obtain information on planning regulations more efficiently.
Since the databases are open to the public, users can access information related to master plans, urban design guidelines, private property use and approvals, car park locations and availability, and private residential property transactions. Meanwhile, analyzing data on how people use public facilities can help planners keep abreast of changes that can influence planning decisions. Planners can gain better insights into the consumption of services and become more responsive to people's needs. With a system that facilitates coordination among agencies, planners now have a more holistic understanding on the ground and are better positioned to anticipate changes that lie ahead.
Singapore's successful transformation provides practical solutions that can be readily adapted to help developing countries embark on a pathway for a more inclusive, resilient, and sustainable future.
Read more:
Livability to start with the neighborhood – Singapore's urban practice (Part 1/2)
Livability to start with the neighborhood – Singapore's stories (Part 2/2)
"But what about Singapore?" Lessons from the best public housing program in the world