ICLEI Resilient Cities Report 2016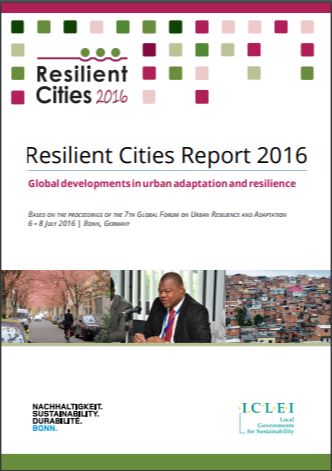 Country/City

Global

Topics

Climate change, Resilience
Published On

October 1, 2016

Author(s)

Thiago Soares Barbizan, Laura Kavanaugh and Evgenia Mitroliou
Resilient Cities is the global forum on urban resilience and adaptation convened in Bonn, Germany. The congress series provides an international platform to share the latest information, good practices, challenges, and innovations for creating more resilient cities. From 2016, the congress also provides an opportunity to track local progress on the resilience targets of the Sustainable Development Goals. The congress outcomes present an annual snapshot of the state of urban resilience, building on discussions and developments from previous years.
The 7th edition of Resilient Cities focused on driving forward implementation and financing of urban resilience toward the goal of a more sustainable, inclusive and resilient urban development. The program featured for the first time a forum on inclusive resilience with speakers from informal settlements and the informal sector. A forum on Financing Resilience was held for the second year with investors, donors, and insurance industry representatives. Further topics included disaster risk reduction; researcher-practitioner collaboration; resilient food, energy, and water management systems; and urban refugees, which was the subject of a special plenary. This report reflects the outcomes of Resilient Cities 2016 and broader developments in the field of urban resilience and climate change adaptation. 
Download the document from here.