The State of African Cities: Investing to Build Resilience Panel
Where
COP24 AfDB Pavillion
Registration Deadline
Dec 08, 2018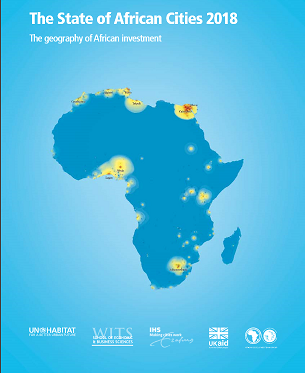 Africa receives a modest share of global FDI yet has the second highest investment growth rate, when compared to other world regions. The industrial sector, construction sector, the services sector, and the agriculture and food industries all compete for market share and growth in a rapidly changing globally connected context. Cities are where the bulk of business contracts are negotiated and signed and profits gained. Cities are where people invest, work and live, and where sustainable investments have the ability to guide future growth.
The newly published The State of African Cities 2018 Report: the geography of African investment, developed by UN-Habitat, Wits University, Erasmus University and the African Development Bank, reveals pioneering work on the geography of foreign direct investment (FDI) flows from world cities to African cities. It is the first international development report to investigate FDI flows at the city level - and explores the networks and clusters of different sectors of investment, the factors which attract it, as well as the impact of FDI on economic growth, employment and wage inequality. The report studies over 20 thematic topics. The session will focus on key findings on ways for Africa's cities to attract the types of FDI that can support sustainable development.
The focus of FDI at the city level is important considering that by 2030 half of Africa's population will live in cities, possibly exacerbated by a form of rapid urbanization that is not coupled with matching socially inclusive economic growth. Therefore, investors into African cities can play a critical role in the region's development, hereby taking into account SDG 11 on Sustainable Cities and Communities, which recognizes the role of cities as productivity hubs that drive growth and attract investment.
The session will start by a short presentation Findings and Discussion on the State of African Cities 2018 Report", by Stefan Atchia, presenting key findings, challenges and recommendations, followed by a panel discussion and opening the floor for Q & A. The main objective of the session is to highlight and debate the findings of the report and other data on the roles of current FDI flows into African cities – and hereby recommend policy strategies that would suit Africa's economic, social and environmental sustainability best. The panel members, who represent high level organizations across the continent, will debate on opportunities and challenges faced in attracting FDI into different types and sizes of cities in Africa's sub-regions in the context of climate resilience and green growth. The session will conclude with a set of five top priorities for cities to act on to attract types of foreign investments that can help push cities towards climate resilient and sustainable development pathways.
Moderation:
Mr. Anthony Nyong, Director for Climate Change and Green Growth, African Development Bank
Presentation:
​
S
tefan Atchia, Acting Division Manager, African Development Bank
Mr. Mohamed Nbou, Director of the Environmental Department, Ministry of the Environment of Morocco
Mr. Benoît Bosquet – Director for Environment and Natural Resources Global Practice , World Bank
Mr. Aage Jorgensen, Country Program Officer, Nordic Development Fund
Ms. Shipra Narang Suri, Coordinator, Urban Planning and Design, UN Habitat
Programme
This session focuses on a high level panel discussion and exchange with the audience that will lead to guidance for key decision-makers.
1) 
A 10-minute presentation of report by Stefan Atchia
2) 
A panel discussion based on the presentation, data and experiences from panellists on what can be done for improved FDI towards climate resiliency in African cities
3) 
Session conclusion on a list of five priority measures that cities in Africa should focus on to attract more and better FDI in sustainable development.