Innovation for Net-Zero and Nature-Positive Cities #GPSCWebinarSeries11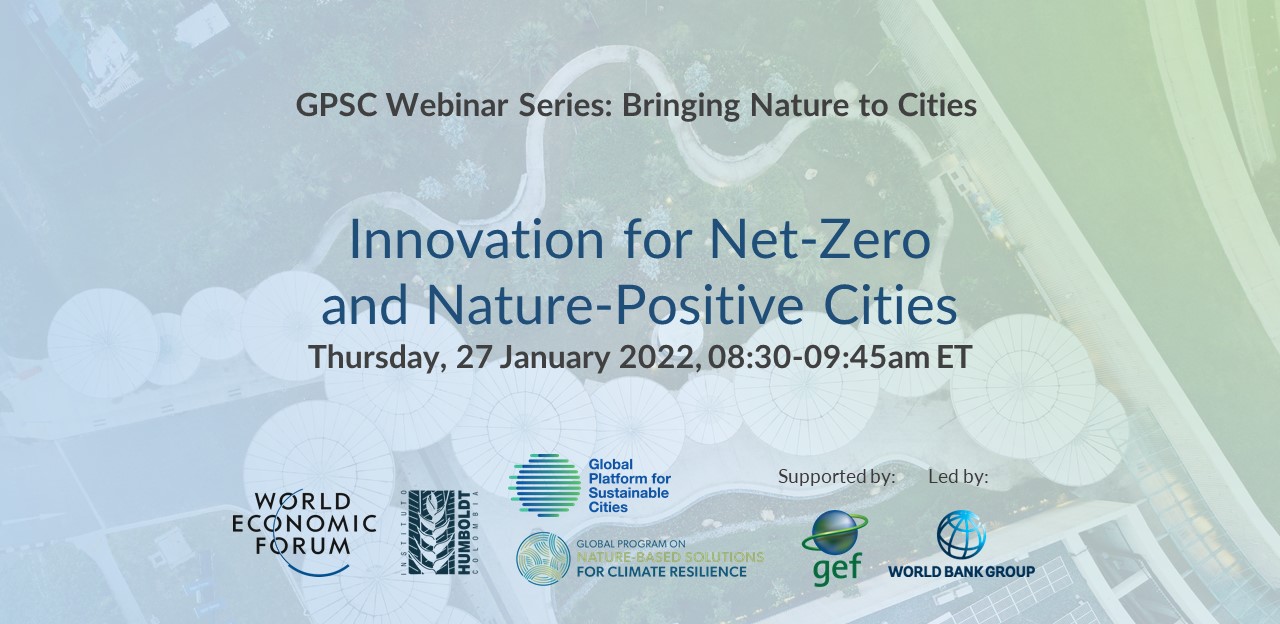 Introduction
The session is organized by the World Economic Forum (WEF) and shares how innovation in cities can be an enabling condition to address the interlinked challenges of climate change and biodiversity loss. Speakers highlight innovative grassroots technologies, approaches, and advocacy tools harnessing the potential of Nature-Based Solutions (NBS) to improve cities' socio-ecological resilience and wellbeing. Don't miss the announcement during the event of the top innovators selected by the Uplink BiodiverCities Challenge. Learn more about the BiodiverCities by 2030 Initiative and check out the BiodiverCities Transformation Map for more information.
Sameh Wahba, Global Director, Urban, Disaster Risk Management, Resilience and Land, World Bank Group 
Mauricio Rodas, Mayor of Quito (2014-2019), 
Visiting Scholar, U
niversity of Pennsylvania and co-chair of the Global Commission on BiodiverCities by 2030
Cristina Gamboa, Chief Executive Officer (CEO), the World Green Building Council (WorldGBC)
Mark Enzer, Chief Technical Officer of Mott MacDonald, and Head of the National Digital Twin programme (NDT) at the Centre for Digital Built Britain
Nicolás Galarza Sánchez, Deputy Minister of the Environment, Colombia 
Monica Yadeun, Founder, Santuario de Aves
Melanie Bishop, Founder, Living Seawalls
Nahad R. Helmi, Co-founder, BitaGreen
Nora Van Cauwenbergh, Co-founder, BitaGreen
Mauricio Rodas is a JD from Universidad Católica de Quito and holds two master's degrees in Government Administration and Political Science from the University of Pennsylvania. In 2007, he founded Ethos Public Policy Lab, a think tank based in Mexico ranked among the most influential in Latin America. In 2013, he ran for president of Ecuador; the following year he was elected as Mayor of Quito (2014-2019). During his mayoral term, Rodas was the hosting Mayor of the UN's Conference on Urban Sustainable Development – Habitat III. Currently, Rodas is a Visiting Scholar at the University of Pennsylvania. As a Senior Fellow of the Adrienne Arsht-Rockefeller Foundation Resilience Center at the Atlantic Council, he leads the City Champions for Heat Action Initiative. Rodas is the Co-chair of the Global Commission on BiodiverCities by 2030. 
Cristina Gamboa is an influential and inspirational leader in the field of sustainability, Cristina is passionate about deep,cross-sector collaboration to bolster systemic change and make this the decade for net-zero emissions. She practices a holistic approach to sustainability, focusing on the social and economic benefits as well as environmental impacts.Prior to joining WorldGBC in November 2018, she was CEO of Colombia Green Building Council. Thanks to her active, committed, and collaborative leadership style, she achieved multiple milestones that enabled sustainability in infrastructure to become mainstream in her home country. Cristina has +25 years professional experience spanning sustainability, economic research, journalism, and international affairs. She earned a degree in Economics from the University of Los Andes and her Masters degree in International Relations and Economics from SAIS-Johns Hopkins University.
Nicolás Galarza Sánchez
 is an Internationalist of the Universidad del Rosario in Bogotá and holds a Masters of Urban Planning from NYU Wagner Graduate School of Public Service. Mr. Galarza Sánchez was a Research Scholar in the Urban Expansion program of the NYU Marron Institute, where he worked with the laureate Economy Nobel Prize, Professor Paul Romer, and the recognized urban planner Shlomo Angel. At NYU, he led various projects in different cities of the region, promoting orderly urban expansion. Galarza has co-authored different publications, including the Urban Expansion Atlas 2016 Edition and the Urban Expansion Atlas of Colombia. Prior to the Marron Institute, Nicolás was an advisor of the High Presidential Counselor for Social Action and Director of the Strategy for Overcoming Extreme Poverty. From 2019 to 2020, Nicolás served as the Urban Director at the Ministry of Housing, City and Territory. Currently, Nicolás Galarza is the Deputy Minister of the Environment at the Republic of Colombia and collaborates as an Affiliate Scholar of the Urban Expansion Program of the Marron Institute of NYU.
Mark Enzer is a keen champion of innovation in the context of collaborative delivery models and he is particularly interested in the transformation of the infrastructure industry, including: systems-thinking, digital transformation, connected digital twins, data infrastructure, low-carbon sustainable solutions and the circular economy in the built environment. As the Head of the NDTp, Mark is contributing to the leadership of this ambitious programme to enable an ecosystem of connected digital twins across the built environment. 
Monica Yadeun de Antuñano grew up in Mexico moving between Mexico City and Chiapas, the most biodiverse state in the country. In Chiapas she witnessed first-hand biodiversity loss which led her to pursue a career in conservation. She became a wildlife veterinarian and earned a master's degree in environmental toxicology. To increase her impact, she studied a PhD in education. Her research led her to design Santuario de Aves, an initiative that brings together scientists, Indigenous experts, and everyday people to transform the cities into refuges for pollinators and birds. 
Melanie Bishop, Associate Professor, is a marine ecologist at Macquarie University, Sydney, Australia. She has over 20 years of experience researching the impacts of coastal development on estuarine and coastal ecosystems, and innovating solutions to mitigate these. She is co-leader of the Living Seawalls program, and the green engineering working group of the World Harbour Project. Her team's work has been recognized with a number of awards and honours including finalist for the 2021 Earthshot Prize and winner of the 2021 New South Wales Sustainability Award.
Nahad R. Helmi is an expert in urban water management and engineering, subject matter expert in green infrastructure, developer of WetSpa-Urban tool, and experience with SaaS platform development. Based on research conducted during his Ph.D. studies, launched BitaGreen together with Dr. Nora van Cauwenbergh, a company dedicated to innovating the world's first tool to enable the automatic allocation of green infrastructure in a cost-optimized method, using Low Impact Development (LID) practices.
Nora Van Cauwenbergh is an expert in water and sustainable development with experience in academia and private sector on integrating nature-based solutions and green infrastructure in basin, city and building planning and design. Central to her work is the connection of communities, government and businesses to identify opportunities for greening the economy. She co-founded BITAGREEN, where she supports green cities as expert participatory software tools and lead business development.
Sameh Wahba, 
Global Director, Urban, Disaster Risk Management, Resilience and Land Global Practice, World Bank
.
The
Global Practice, which also covers territorial development, geospatial and results-based-financing issues, has a portfolio of close to $30 billion in commitments in investment projects, program-for-results and development policy lending, and about 450 staff. 
He
 holds a Ph.D. and 
Master's
 degree in urban planning from Harvard University, and a B.Sc. and M.Sc. in Architectural Engineering from Cairo University.