GPSC Webinar Series: Bringing Nature to Cities. Pathways to Integrated Urban Solutions to Climate Change and Biodiversity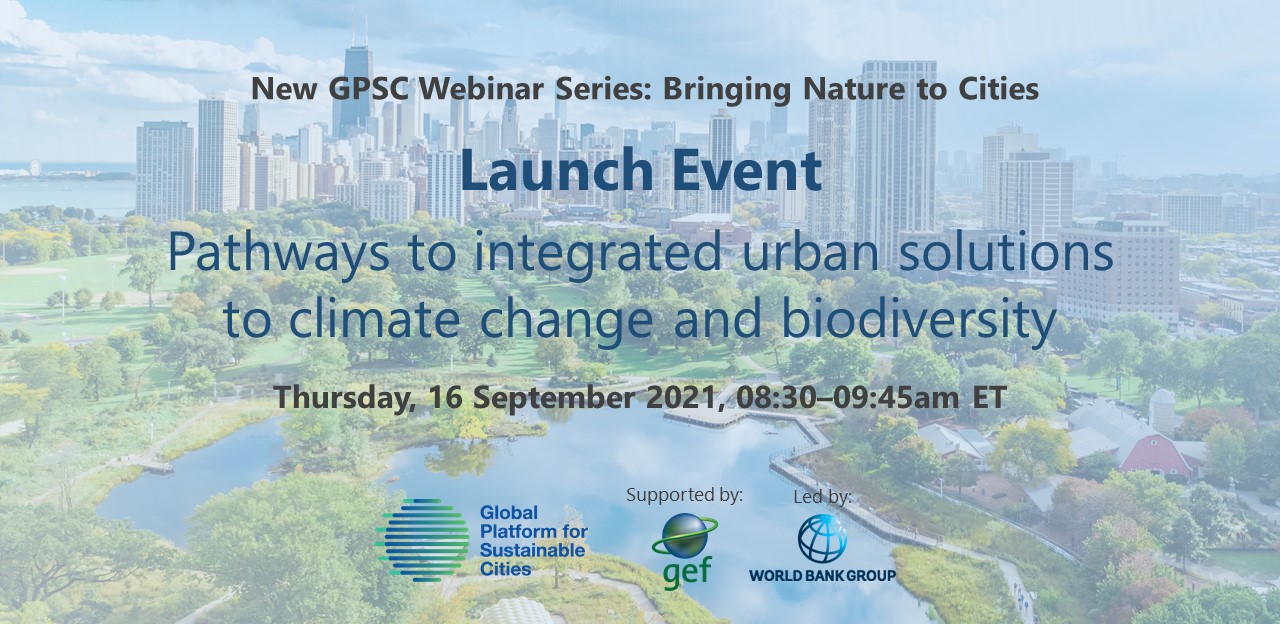 The webinar series will be launched at the high-level event titled 

"Pathways to Integrated Urban Solutions to Climate Change and Biodiversity" 

convened on

 Thursday,

 

16 September 2021

. Senior leadership will discuss 

opportunities and challenges in achieving an equitable, nature-positive and carbon-neutral future, and cities' unique ability to limit biodiversity loss and global warming to 1.5°C

. The session will provide an overview of different approaches, drawing insights from relevant projects and research – such as the recent report findings announced by the Intergovernmental Panel on Climate Change (IPCC) – while considering the significance and applicability of actions for cities around the world.
Jeanne d'Arc Mujawamariya,

Minister of Environment, Rwanda
Nicolás Galarza Sánchez, 
Deputy Minister of the Environment, Colombia
Vera Revina Sari, 
Acting Deputy Governor for Spatial Planning and Environment, Jakarta, Indonesia
Susan Aitken,

Leader of the Council, Glasgow, United Kingdom
Carlos 
Manuel Rodríguez,

 Chief Executive Officer, GEF (Global Environmental Facility)
Bruno Oberle,

Director General, IUCN (International Union for Conservation of Nature)
Moderator
Ethel Sennhauser,

Director, Strategy and Operations, World Bank
Introduction by
Sameh Naguib Wahba, 

Global Director, Urban, Disaster Risk Management, Resilience and Land Global Practice, World Bank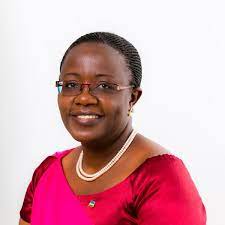 Dr Jeanne d'Arc Mujawamariya is the Minister of Environment, of the Republic of Rwanda. 
Prior to her  appointment in November 2019, she served as Ambassador of Rwanda in Russia from 2013 and Rector of Kigali Institute of Science and Technology- KIST from (2011-2013). Dr Mujawamariya Jeanne d'Arc served also as Rwanda's Minister of Gender and Family Promotion (2008-2011); Minister of Education (2006-2008); Minister of State in Charge of Higher Education (2005-2006) and Minister of State in Charge of Primary and Secondary Education in the Ministry of Education, Science, Technology and Scientific Research (2003-2005). Minister Jeanne d'Arc Mujawamariya a PHD holder in Physical-Chemistry from the Indian Institute of Technology-IIT Roorkee, India. She is passionate about environment conservation and efficient natural resources development to achieve sustainable development and green growth for Rwanda's socio-economic transformation. 
Nicolás Galarza Sánchez
 is an Internationalist of the Universidad del Rosario in Bogotá and holds a Masters of Urban Planning from NYU Wagner Graduate School of Public Service. Mr. Galarza Sánchez was a Research Scholar in the Urban Expansion program of the NYU Marron Institute, where he worked with the laureate Economy Nobel Prize, Professor Paul Romer, and the recognized urban planner Shlomo Angel. At NYU, he led various projects in different cities of the region, promoting orderly urban expansion. Galarza has co-authored different publications, including the Urban Expansion Atlas 2016 Edition and the Urban Expansion Atlas of Colombia. Prior to the Marron Institute, Nicolás was an advisor of the High Presidential Counselor for Social Action and Director of the Strategy for Overcoming Extreme Poverty. From 2019 to 2020, Nicolás served as the Urban Director at the Ministry of Housing, City and Territory. Currently, Nicolás Galarza is the Deputy Minister of the Environment at the Republic of Colombia and collaborates as an Affiliate Scholar of the Urban Expansion Program of the Marron Institute of NYU.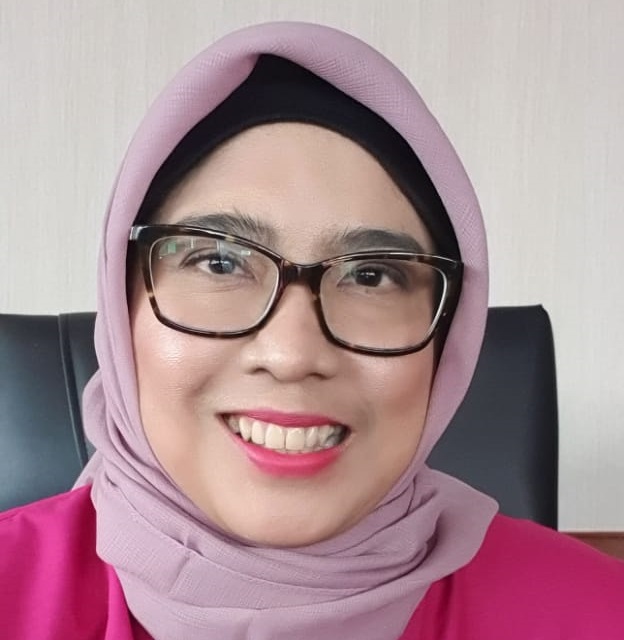 Vera Revina Sari is the Deputy Governor for Spatial Planning and Environment of Jakarta, Indonesia. She holds a Bachelor of Engineering in Regional and City Planning from the Bandung Institute of Technology (ITB), complemented with a Master of Engineering in Urban Engineering from the University of Tokyo. Before becoming the Deputy Governor of Jakarta, she worked as the Head of Bureau for Spatial Planning and Environment of DKI in Jakarta, the Head of Infrastructure and Environment Division of the Regional Planning Board of DKI and the Head of Spatial Planning Division of Bureau for Spatial Planning and Environment of DKI also in Jakarta.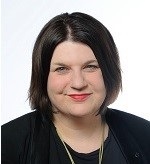 Susan Aitken has been Leader of Glasgow City Council since May 2017 and is the first SNP Leader of the Council. For her work to deliver equal pay justice for thousands of women in the city, she was awarded Scottish Local Government Politician of the Year. Under her leadership Glasgow has been named the host of COP26, a Global Green City, and the European Capital of Sport for 2023. Councillor Aitken has worked in a variety of policy and research roles in the Scottish Parliament and the third sector, and as a freelance writer and editor specialising in health and social care policy. She is a graduate of both Glasgow and Strathclyde Universities.
Carlos Manuel Rodriguez
, 
CEO and Chairperson of the Global Environment Facility
, the largest multilateral trust fund supporting environmental action in developing countries and the main financing mechanism for multiple United Nations environmental conventions. During his three terms as Minister of Environment and Energy in Costa Rica, he was a pioneer in the development of Payment for Ecosystem Services initiatives and strategies for forest restoration, ocean conservation, and de-carbonization. He is an internationally recognized expert on environmental policy, multilateral environmental negotiations, and financing for nature. Rodriguez has a legal degree from the Law School of the University of Costa Rica, and a master's degree in Environmental Law and Policy from Southern Methodist University in Dallas, Texas.
Dr Bruno Oberle

 assumed office as 

Director General of the International Union for Conservation of Nature 

in July 2020. He brings over 40 years of experience to IUCN when redefining humanity's relationship with nature is more urgent than ever. Before joining IUCN, Dr Bruno Oberle served in some of Switzerland's most prestigious positions related to the environment. Between 2005 and 2015, as State Secretary for the Environment and Director of the Federal Office for the Environment for Switzerland, he represented Switzerland in leading international institutions and negotiations, playing a key role in the Global Environment Facility and in establishing the Green Climate Fund. Dr Oberle is a leading expert in the fields of sustainable resource management and green economy and has explored and shaped the interface between environmental policy, economic development and social equity from the perspective of state regulator, entrepreneur and scientist.
Ethel Sennhauser
, Director, Strategy and Operations, World Bank.

 M

s. Sennhauser, an Argentine national, joined the Bank in 1998 as an Agriculture Specialist in the South Asia Region. She has since held various positions across Latin America and Caribbean and East Asia regions.  Her most recent assignments have been Director, Strategy and Operations for South Asia Region and Director, Strategy and Operations, Sustainable Development Global Practice Group. Prior to joining the World Bank, she worked extensively with the private sector and academia

.

 
Sameh Wahba, 
Global Director, Urban, Disaster Risk Management, Resilience and Land Global Practice, World Bank
.
The
Global Practice, which also covers territorial development, geospatial and results-based-financing issues, has a portfolio of close to $30 billion in commitments in investment projects, program-for-results and development policy lending, and about 450 staff. 
He
 holds a Ph.D. and 
Master's
 degree in urban planning from Harvard University, and a B.Sc. and M.Sc. in Architectural Engineering from Cairo University.