GPSC Global Online Series. Launch Session: A Call for Action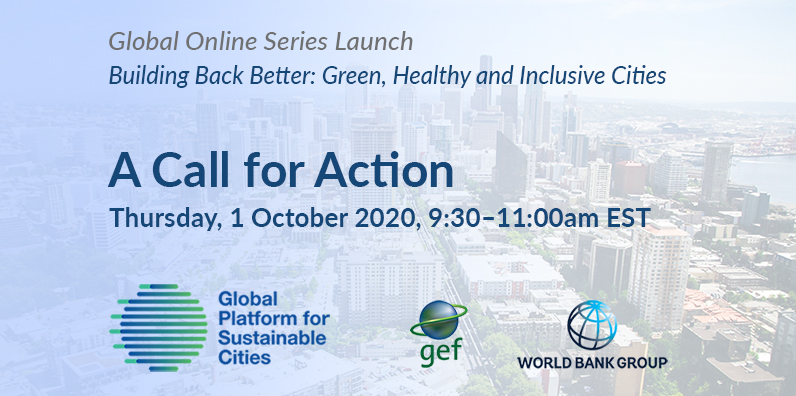 The global online series titled Building Back Better: Green, Healthy and Inclusive Cities is being hosted by GPSC and presented in partnership with a wide range of the platform's partners to support cities integrating initiatives into their pandemic recovery efforts. The series brings together the perspectives of cities, multilateral development banks, UN agencies, knowledge partners, and think tanks.
This launch session will feature World Bank and Global Environment Facility leadership setting the stage for the webinar series discussion, along with mayors reflecting on their cities' varied experiences during the COVID-19 pandemic so far, and their intended path toward a green recovery.
Mari Pangestu,

World Bank Managing Director for Development Policy and Partnerships
Carlos 
Manuel Rodriguez,

 GEF Chief Executive Officer
Yvonne Aki-Sawyerr,

Mayor of Freetown, Sierra Leone
Jan Vapaavuori, 

Mayor of Helsinki, Finland
Sameh Naguib Wahba,

Global Director, Urban, Disaster Risk Management, Resilience and Land Global Practice, World Bank
Language Interpretation
The session will be simultaneously interpreted between English and French. Please note that your device must have an updated version of Zoom to receive the simultaneous interpretation channels.
Recording
The session will be recorded and afterward the video will be available for public viewing on this event page.
Visit the GPSC website to learn more about the Global Online Series here
Bios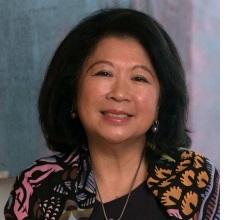 Mari 
Pangestu
, 
World Bank Managing Director for Development Policy and Partnerships since March 2020. With over three decades of experience in academia, the government and in a think tank, Mari's expertise as a strategic policymaker and thought leader will be essential in furthering a unified approach with partners to meet common development goals. Meaningful stakeholder engagement, particularly with civil society on the ground, has been a key facet of Mari's varied career. Mari obtained her bachelor's and master's degree in economics from the Australian National University, and her doctorate in economics from the University of California at Davis.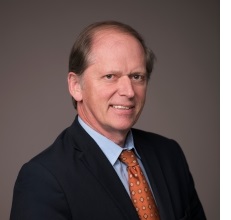 Juergen 
Voegele
,
World Bank Vice President for Sustainable Development Vice President for Sustainable Development
. He oversees the work of Global Practices and thematic groups that bring together the best expertise from across the World Bank Group and from partners, to help countries tackle their most complex challenges in the area of sustainable development. The practices under his responsibility include Agriculture and Food; Climate Change; Environment, Natural Resources and Blue Economy; Environmental and Social Framework Implementation Unit; Social Development; Urban, Disaster Risk Management, Resilience and Land; and Water. 
He 
holds a PhD in Agricultural Economics and a Master's in Agricultural Engineering from the University of Hohenheim, Germany.
Sameh Wahba, 
Global Director, Urban, Disaster Risk Management, Resilience and Land Global Practice, World Bank
.
The
Global Practice, which also covers territorial development, geospatial and results-based-financing issues, has a portfolio of close to $30 billion in commitments in investment projects, program-for-results and development policy lending, and about 450 staff. 
He
 holds a Ph.D. and 
Master's
 degree in urban planning from Harvard University, and a B.Sc. and M.Sc. in Architectural Engineering from Cairo University.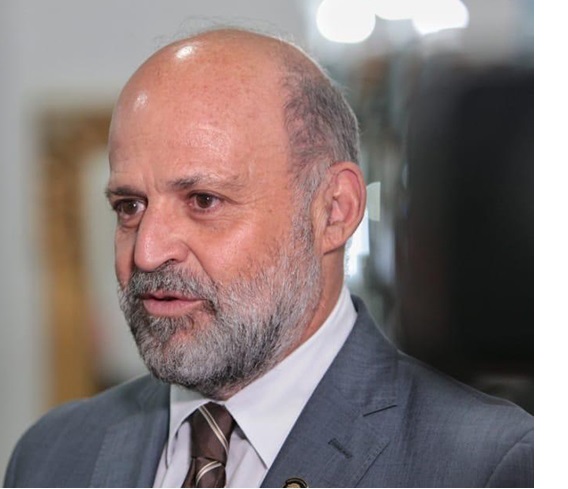 Carlos Manuel Rodriguez
, 
CEO and Chairperson of the Global Environment Facility
, the largest multilateral trust fund supporting environmental action in developing countries and the main financing mechanism for multiple United Nations environmental conventions. During his three terms as Minister of Environment and Energy in Costa Rica, he was a pioneer in the development of Payment for Ecosystem Services initiatives and strategies for forest restoration, ocean conservation, and de-carbonization, and is an internationally recognized expert on environmental policy, multilateral environmental negotiations, and financing for nature. Rodriguez's educational background includes a legal degree from the Law School of the University of Costa Rica, and a master's degree in Environmental Law and Policy from Southern Methodist University in Dallas, Texas.
Yvonne Aki-Sawyerr 
OBE, 
Mayor of Freetown (Sierra Leone)
was sworn in May 2018 She with a commitment to transform the city of Freetown using an inclusive, data-driven approach to address challenges in the city. The 3-year 'Transform Freetown' plan details 19 concrete targets across 11 sectors and covers issues ranging from tackling environmental degradation to facilitating the creation of jobs in the tourism sector. She is a finance professional with over 25 years of private sector experience in strategic planning, risk management consulting and project management. Mayor Aki-Sawyerr is a Chartered Accountant and holds an MSc in Politics of the World Economy from the London School of Economics and a BSc Hons in Economics from 
Fourah
 Bay College.
Jan Vapaavuori
, 
Mayor of Helsinki
. He is responsible for the strategy of the city that aims to set Helsinki as the "most functional city in the world" with a special focus on sustainable growth, digitalization, global problem solving, creativity and the best possible conditions for happy everyday city life. The strategy also defined Helsinki as a test-bed for start-ups and smart city development projects resulting in an increased global relevance for the city. He graduated as Master of Law from the University of Helsinki and holds an Ho
norary Doctoral Degree form 
Hanken
 School of Economics.