GPSC Global Online Series 2021. Raising Climate Ambition in Cities: C40's Experience Supporting Climate Action Planning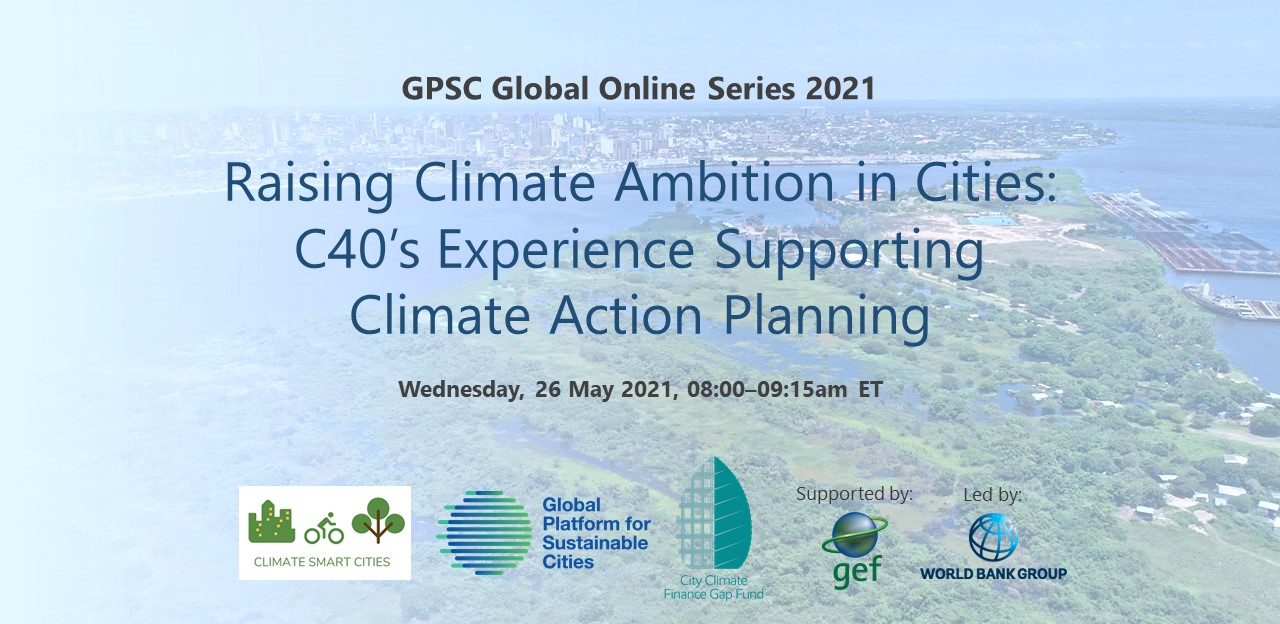 The 
Climate-Smart Cities Community of Practice
 is organizing a series of bi-monthly webinars in coordination with the 
City Climate Finance Gap Fund
 (Gap Fund) and the 
Global Platform for Sustainable Cities
 (GPSC) from March through June 2021. The webinar series aims to provide policy makers and practitioners an overview of different tools, applications and sector-based approaches to climate mitigation and their relevance and applicability to informing climate-smart investments decisions in cities.
C40's Climate Action Planning Framework has been developed and rolled out to support cities in developing climate action plans that are aligned with the Paris Agreement goals. The objective of this webinar is to highlight the importance of urban climate leadership and how cities are preparing to deliver a 1.5-degree Celsius pathway. The webinar will focus on C40's experience in supporting cities in preparing and updating their climate action plans. A panel discussion between C40's City Advisers from the cities of Salvador de Bahia in Brazil and Cape Town in South Africa and World Bank Task Team Leaders will explore the challenges and opportunities for implementing these plans in order to achieve low-carbon and climate-resilient development patterns.
Joanna Masic, Global Lead for Sustainable City Infrastructure and Services, World Bank 
Isabel Margarita Cantada, ET Consultant, World Bank
Overview and Introduction of the Climate Action Planning Process and Tools.

 
Inés Lockhart, Senior Manager for Climate Action Planning, C40
Cape Town´s Experience with Modelling and Target Setting (Pathways tool). Stephen Davis, City Adviser, C40
Salvador´s Experience with Stakeholder Engagement during Action Prioritization (Action Selection and Prioritization tool). Matheus Ortega, City Adviser, C40 
Paul Kriss, Lead Urban Specialist, World Bank 
Emanuela Monteiro, Senior Urban Development Specialist, World Bank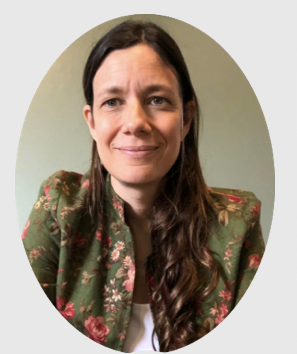 Inés serves as Senior Manager, Climate Action Planning, providing expert assistance across the climate action planning process in Africa, China, Latin American and South East and West Asia, and working to develop essential resources. She joined C40 in mid 2016. Prior to her current role, Inés was Project Manager for the Technical Assistance Programme, Programme Manager in the Climate Action Planning team in Latin America and City Adviser for Buenos Aires. Prior to joining C40, Inés was part of Buenos Aires Environmental Protection Agency serving as the city´s Climate Change coordinator, towards the development of the city´s first 2 iterations of their Climate Change Action Plan. She managed and coordinated the interaction with different stakeholders and has been the technical liaison for the city with the national government and in the different international networks.  
Stephen has been working as C40's climate change adviser to the City of Cape Town's since March 2018 and has been been working on projects related to clean energy, resilience and climate change mitigation for 14 years. He has assisted cities and local governments in South Africa, Rwanda, Mozambique and Comoros with GHG emissions modelling, target setting, climate strategies, action plans, and capacity building. Prior to his work with cities, Stephen lectured on energy and climate change topics, and led several research projects on residential energy efficiency and behavioural change. He has a Master's degree in Operations Research from the University of Cape Town and a degree in Statistics and Actuarial Science from the University of the Witwatersrand. He also holds certificates with the World Bank's City Climate Planner Program and with the Centre for Appreciative Inquiry as a coach and facilitator. In his spare time Stephen runs and climbs mountains, swims in the local kelp forests and bakes bread.
Matheus Ortega serves as City Adviser for Salvador, Brazil. He supported the city government with technical capacity and stakeholder engagement towards the implementation of its first Climate Action Plan. Prior to joining C40, Matheus worked as Head of Future Cities Programme for the UK Government in Brazil. He led the design and delivery of a £16m Prosperity Fund programme in smart transportation and water management, managing partners such as the World Bank and UN Habitat. He also worked as Project Manager in areas such as climate smart cities planning, urban mobility, infrastructure regulation, solid waste management, and sustainable social housing in several Brazilian cities.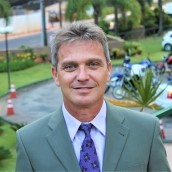 As a Lead Urban Specialist at the World Bank Group, Paul integrates the financial, planning, social, and technical aspects of urban development to help municipalities address enormous infrastructure challenges. Recent developments, including urbanization, large-scale migration, and extreme weather events require new and innovative solutions in the urban space. Paul has more than 20 years of experience in urban development and infrastructure projects in large, medium and small cities. He has identified, prepared and executed large-scale investment programs for the World Bank targeting urban and rural infrastructure all across the world. Over this time, he has demonstrated that providing attention to details can significantly improve results and deliver services to poor populations.
Emanuela Monteiro is an expert in urban development and has 15 years of professional experience in the area, both in the public and private sectors. She has a degree in Urban Planning from the Federal University of Rio de Janeiro. For the past several years, Ms. Monteiro has been working as a senior urban development specialist and project leader for the World Bank in Brazil, mostly with states and municipalities. Her fields of expertise include integrated infrastructure services and urbanization of precarious areas, land regularization, local economic development and strengthening of urban and environmental management institutions. More recently, she started working with other Latin American and Caribbean countries, with a project portfolio that entails technical assistance on metropolitan governance issues as well as mechanisms and instruments for urban infrastructure funding and rehabilitation.
Joanna Masic, a British national, is a Lead Urban Specialist and Global Lead for the World Bank's Sustainable City Infrastructure and Services Global Solutions Group. Since 2017, she has worked in the Europe and Central Asia region where she worked in Turkey scaling-up the Sustainable Cities Series of Projects and developing a program of lending and analytics on urban and infrastructure resilience. In Bulgaria, she also led advisory engagements on regional development and territorial decarbonization. Prior to her career at the World Bank, she worked at the Scottish Environment Protection Agency and was a consultant to the UK Government Taskforce on Environment to Serbia following the NATO bombing. Joanna holds a MSc in Environmental Epidemiology and Policy from the London School of Hygiene and Tropical Medicine and an MA in Environmental Science and Geography from the University of Dundee. She is a chartered member of the UK Chartered Institute of Water and Environment Management and a Chartered Scientist (UK Science Council).