Peer Exchange Session at Finance Forum Day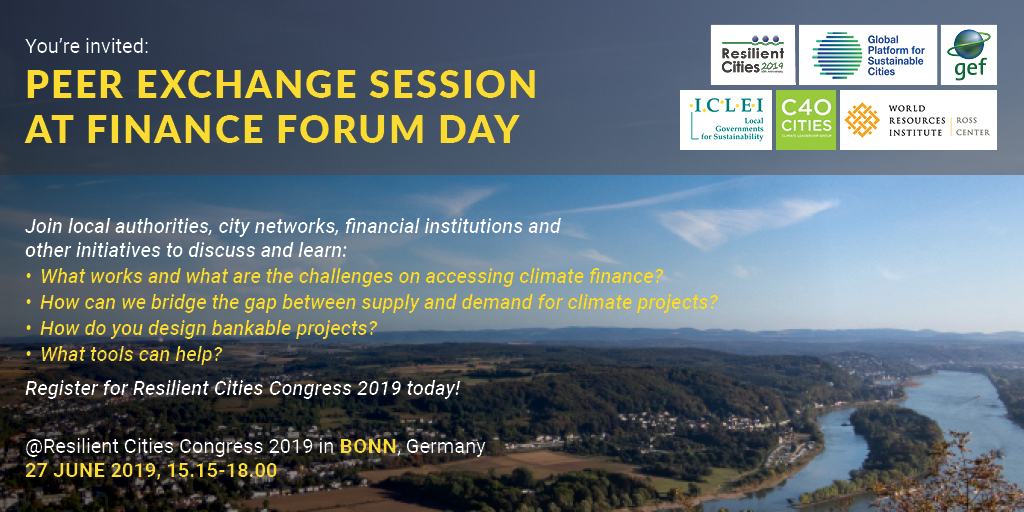 Dear Colleagues,
ICLEI - Local Governments for Sustainability, on behalf of the GPSC Resource Team, invites you to participate in a peer-exchange session on climate finance. Further information downloadable here. The session will be part of a one day finance forum held at the 10th Global Forum on Urban Resilience and Adaptation - Resilient Cities 2019 in Bonn, Germany on Thursday 27 June. 
Join us! 
The GPSC Resource Team
The Global Platform for Sustainable Cities (GPSC) funded by the Global Environment Facility (GEF) is a collaborative knowledge platform for cities, networks and institutions to advance the urban sustainability agenda by promoting a common approach to integrated urban planning. The platform brings together participating cities and a wide range of entities working on urban sustainability issues. 
The GPSC Resource Team, composed of ICLEI - Local Governments for Sustainability, the World Resources Institute and C40 Cities, is responsible for promoting knowledge sharing and capacity development among participating cities through peer to peer learning, training academies, access to a range of tools and knowledge products.