GPSC Working Group Meeting: Biodiversity and Natural Capital Accounting for Cities
Where
World Bank Headquarters, Washington, DC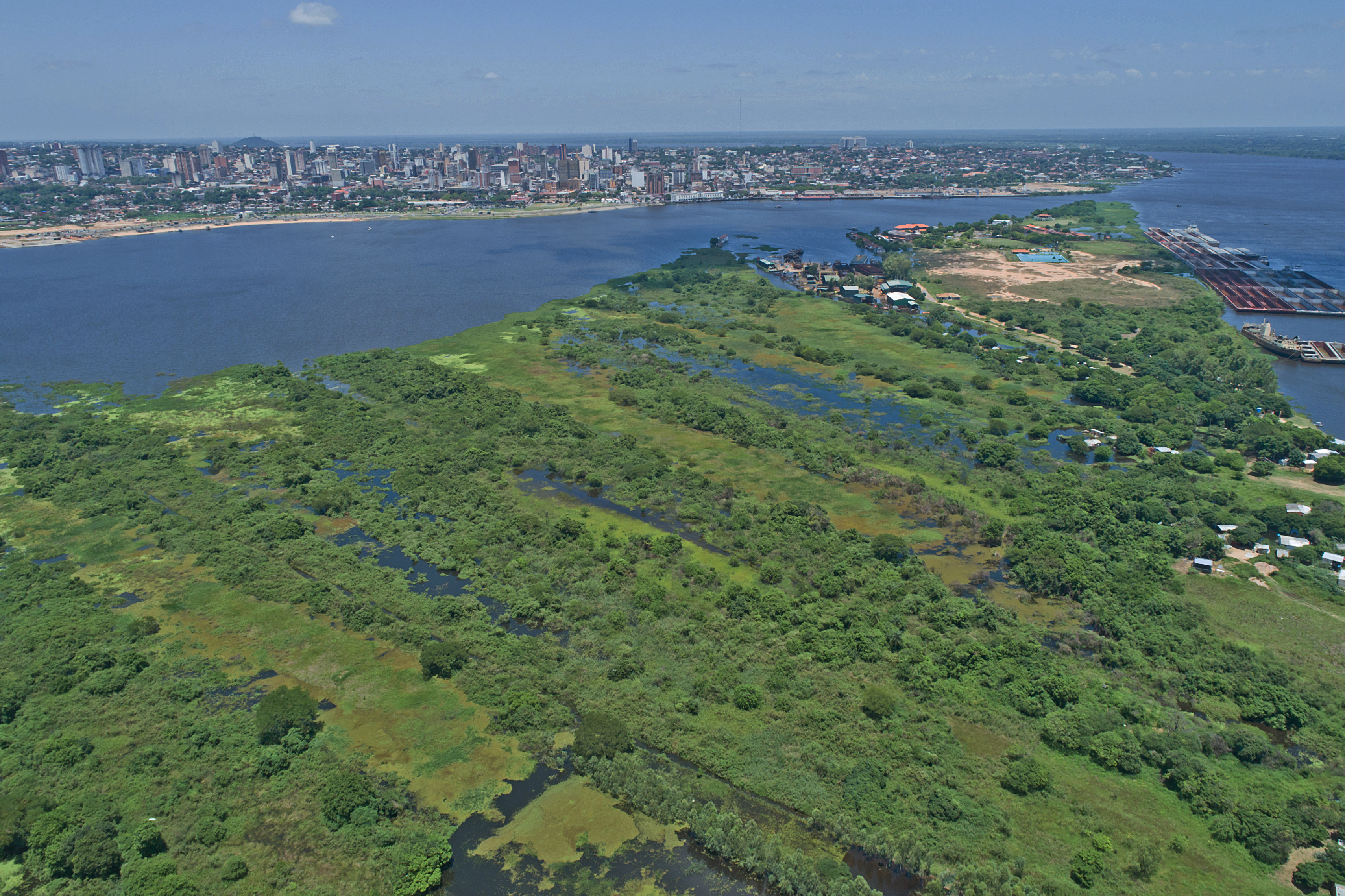 Photo: Aerial view of Ecological Reserve of Banco San Miguel and Bahia de Asuncion by © PNUDParaguay/Rene Gonzale
Biodiversity and Natural Capital Accounting for Cities
Working Group Meeting
Draft Agenda
Global Platform for Sustainable Cities
8 – 10 May 2019
The World Bank, Washington, DC
Meeting Agenda
The Working Group Meeting's program is presented by the Global Platform for Sustainable Cities (GPSC) in collaboration with the International Union for Conservation of Nature (IUCN) and the Nature Conservancy (TNC). World Bank will host the event at their headquarters in Washington, DC.
The meeting's objective is to bring together experts and city representatives to:
Facilitate an understanding of approaches to city biodiversity conservation and creation, and methods for accounting of city-level natural capital;

Discuss how cities can be supported to integrate biodiversity strategies and the benefits of natural capital into their planning processes so that they can pursue green urban development.
A Working Paper will be prepared by GPSC and other organizations in advance of the meeting and shared with the participants beforehand. From the meeting's discussion, the paper will be further developed and finalized.
Day 1
8 May 2019
8:30 – 9:00

Registration and Continental Breakfast Outside Meeting Room

Session 1: Opening of the Working Group Meeting

9:00 – 9:20

Opening Remarks

 

Introduction of Meeting Participants

Session 2: Framing and Overview

9:20 – 10:35

Purpose and Background: GPSC's emphasis on city biodiversity, natural capital accounting, and sustainable urban planning strategies

 

Overview of the Working Paper: Green urban development, city biodiversity and natural capital

 

Discussion

10:35 – 10:50

Coffee Break
Session 3: City Biodiversity

10:50 – 12:30

Overview: Status of the work by cities and various organizations on city biodiversity

Convention on Biodiversity's work on biodiversity in cities
Singapore's work on the Singapore Biodiversity Index 
IUCN
TNC
Urban Biodiversity Hub

 

Discussion

12:30 – 13:30

Lunch

13:30 – 14:45

A Strategy for Integrating City Biodiversity into Urban Planning Processes

 

Cities' green urban development, planning processes and biodiversity considerations

What are the key barriers to planning for biodiversity in a city?
How would biodiversity contribute to a city's green vision?
What are the key components of a city's green urban strategy?

 

Approaches to quantifying city biodiversity, including utilizing a city biodiversity index

How is the data collected – will technology, such as geospatial tools or others, help with data collection for biodiversity indicators?
What are the key indexes?
What is the governing process for collecting and managing the data for a city-level index?
What are the key challenges of establishing, operationalizing, and maintaining a city biodiversity index?

14:45 – 15:00

Coffee Break

15:00 – 17:00

Interactive Discussion – Supporting a pilot city

City representatives that are interested in piloting city biodiversity initiatives into their planning and implementation processes will present a case for their city's opportunities, along with the expected challenges. Experts will be invited to help the city identify key steps and recommendations to integrate city biodiversity into the urban planning strategies.

17:00

Wrap Up of Day
Day 2
9 May 2019
8:30 – 9:00

Continental Breakfast Outside Meeting Room

Session 4: Natural Capital Accounting for Cities

9:00 – 10:30

Insights and Lessons Drawn from Existing Work:

Natural capital accounting at the national level: Wealth Accounting and Valuation of Ecosystem Services (WAVES) by World Bank

 

Case Studies:

Rwanda, Colombia and/or other countries
Singapore: A city-state approach by the National Parks Board of Singapore

 

Discussion

10:30 – 10:45

Coffee Break

10:45 – 12:30

Translating a National Approach to Cities:

Cases of London and/or other cities

 

Discussion:

Whether and how could the methods for national-level capital accounting be used for city-level accounting, and would there be any differences?
What would be the benefits for cities to adopt natural capital accounting?

12:30 – 13:30

Lunch

13:30 – 14:30

 

City Biodiversity and Natural Capital Accounting

 

14:30 – 15:45

Coffee Break

15:45 – 17:30

Interactive Discussion – Supporting a pilot city

City representatives that are interested in piloting natural capital accounting in their cities will present their case of opportunities and expected challenges. Experts will be invited to help the city identify solutions.

 

Key considerations include:

What are the key barriers to planning for a city to adopt natural capital accounting?
What are the key considerations in adopting the approach?
What are the key steps and recommendations for the piloting cities?

17:30

Wrap Up of Day 2
Day 3
10 May 2019
8:30 – 9:00

Continental Breakfast outside Meeting Room

Session 5: Creating and Enhancing Cites' Natural Capital –

Nature-based Urban Investment

9:00 – 11:00

City Natural Capital Creation and Enhancement Through Nature-based Investment:

Key principles
Project examples that enhance biodiversity, offer climate benefits and increase livability: waterfront urban development and green corridors for footpaths and cycleways

11:00 – 11:15

Coffee Break

11:15 – 12:30

Mapping Key Activities and Targeted Support for GSPC's Participating Cities

12:30

Conclusion of the Meeting